Nail varnish is almost any type of paint applied to the fingernails for cosmetic purposes. Other names include nail polish, nail lacquer, nail enamel and fingernail polish. "Nail varnish" is the preferred term when used in the United Kingdom. It usually comes in a small bottle with an attached brush for application.
Today's nail varnish was first formulated in the 1920s by the American Revlon company. Brothers Charles Revson and Martin Revson, chemist Charles Lachman and French make-up artist Michelle Menard worked together to create a nail polish that wouldn't chip easily and could be stored for years. They were inspired by the newly formulated types of car paint and thought it had cross-applications for the beauty industry.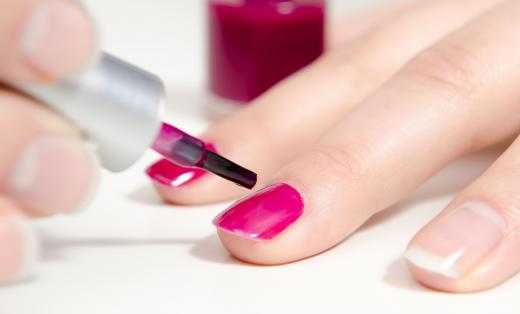 Originally, nail polish only came in red. It was released at roughly the same time as Technicolor films came out, and female movie stars began wearing the new cosmetic. This was quite a change from the previous era, when only "loose" women wore makeup. The new popularity of nail varnish launched the Revlon cosmetics company.
Since its inception, many details of nail polish have been improved while the basic formula remains the same. It now comes in a range of thousands of colors. Chips of mica are often suspended in it to provide sparkle. The greatest challenge is having the paint elements separate after several years, which many manufacturers still view as a hurdle to overcome.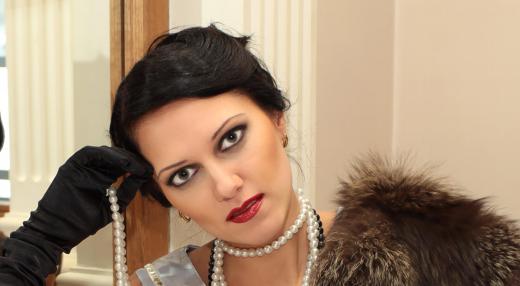 There has been some concern over the most common ingredients in nail varnish. Formaldehyde, toulene and dibutyl phthalate may cause birth defects for pregnant women. In response, nail varnishes using milder chemicals, such as acetate or acetone, have been developed. Nail polish made with these chemicals wears at a slightly faster rate, but otherwise, it acts like a traditional nail polish.
So-called "organic" nail polishes have been manufactured in response to health concerns. "Organic" is a misnomer, since there are no organic standards for nail polish set forth by the United States Food and Drug Administration (FDA). Nevertheless, many "organic" nail polishes describe their products as non-toxic and water-based. Due to the lack of harsh chemicals, water-based nail polishes do not have the strong scent that is usually associated with nail varnish, and they wear off more quickly.
The cosmetic tradition of decorating the nails did not begin with Revlon's invention in the 1920s. Henna, gold leaf and silver leaf have been applied to the nails by fashionistas in many different cultures throughout history. In Victorian times, women would apply a paste to their nails and buff them to a shine. Clear lacquer was also used. Before Revlon's new formula, a type of nail polish was brewed from leftover cellulite scraps. Color and scent were added before it was bottled for nail application.
AS FEATURED ON:
AS FEATURED ON:







By: frankdaniels

Nail varnish is a term that is typically used to describe nail polish in the UK.

By: artmim

Today's nail varnish was first formulated in the 1920s by Revlon.

By: vvoe

Chips of mica are often suspended in nail polish to provide sparkle.

By: Alliance

Fingernail polish, nail polish, nail lacquer and nail enamel are all alternative names for nail varnish.

By: gulserinakin

Originally, nail polish only came in red.