What are Some Different Types of Charm Bracelets?
Charm bracelets are desirable because they allow the wearer to easily customize their jewelry. Several charms, each having a special meaning to the wearer, can be attached to base bracelets in order to show off the wearer's interests or history. Three of the most popular types are the dangling, the Italian, and the European charm bracelet. Each type of bracelet has its own unique style of charms. Dangling charm bracelets are more traditional and have more traditional charms, while the Italian and European versions are recent additions to the market and have more unorthodox charms.
The base of a dangling charm bracelet is made from interlocking links. The base bracelets can be made from a variety of materials including silver, yellow gold, white gold, and stainless steel. The charms attach to the bracelet's links and dangle on the wearer's wrist. These charms can be cast in a variety different shapes that commemorate a part of the wearer's life. Examples of shapes include birthstones, initials, baby booties, and engraved hearts.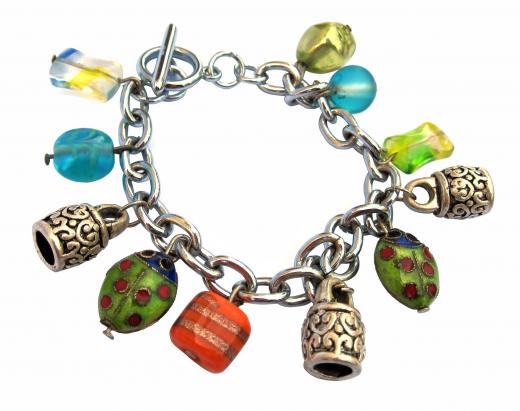 Children's charm bracelets are often dangling bracelets. The links allow the bracelet to be adjustable and grow with the child. As with all charm bracelets, the charms on these bracelets can be customized according to the child's interests. Sanrio characters, such as Hello Kitty®, and pop singers, are two popular examples.
In contrast to dangling charm bracelets, the Italian version features flat charms that interlock with each other to form something that looks like a watch band. The charms on these bracelets feature cartoon characters, musical motifs, religious symbols, and many other subjects. Charms are able to be interchanged which allows the wearer to change the bracelet at any time he or she chooses. The bracelet's unique design also allows it to be used as a personalized charm watch. Once a charm has been placed on a charm watch, however, it may not be able to be interchanged.
The European charm bracelet uses beads rather than flat or dangling charms. Charms beads are snapped on around a rope-like bracelet that can be made from gold, silver, or other materials. The wearer can mix and match a variety of charm beads depending on their preference. These beads can be made not only out of silver and gold but out of glass as well. The bead's designs feature motifs such as initials and gemstones that further personalize the bracelet.
AS FEATURED ON:
AS FEATURED ON:







By: Ravenna

A charm bracelet allows a wearer to add or remove charms as she pleases.