What is a Charm Bracelet?
A charm bracelet is a simple chain that wraps around the wrist, but it has links large enough to attach charms to them. Charms are small decorative pendants made in a variety of shapes, colors, and designs, and they often signify a special event or relationship. They might include jewels, miniature animals, signs such as hearts or stars, tiny photo frames, initials of the wearer and her friends, or special engraved items from loved ones. This type of bracelet can hold charms of all types, representing gifts, friendships, or special occasions.
The history of charm bracelets goes back to ancient times when charms were worn to please the gods, to ward off evil spirits, or to gain entry into the afterlife. During the middle ages, they were worn by knights to their signify rank and family origin. Queen Victoria is responsible for giving charms the decorative and stylish purpose they bear today. Her bracelets showed the world that they could be worn for fashion rather than superstition.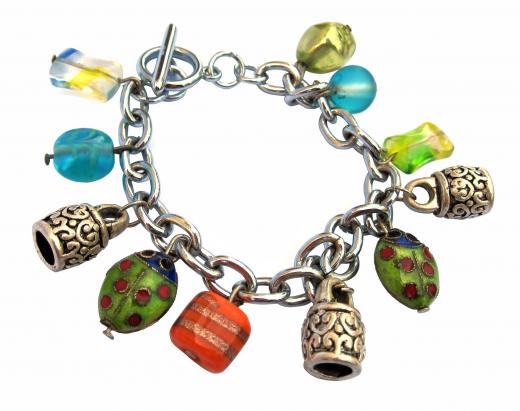 At the end of World War II, soldiers returned from foreign lands with charms for their wives and sweethearts at home. This trend carried into the 1950s when charm bracelets became the number one gift request for girls and women, on which they wore charms to represent important milestones in their lives. Since the 1950s, as fashions have evolved, this bracelet has risen and fallen in popularity, but in the past decade, charms have become popular once again.
A charm bracelet can be worn as casual jewelry or for formal occasions, depending on the style. One can be worn by anyone, but these bracelets are especially popular with pre-teen and teen-aged girls. Friends often enjoy wearing matching charms or charms split in half, with each friend wearing part, to signify the close friendship. Girls might wear the initials of a special boyfriend or have his picture in a tiny charm frame. A bracelet might have all matching charms or charms that are all similar, such as state flags, tiny furniture, people, sports insignia, pets, or travel remembrances. On the other hand, one may have all differing charms of various shapes and sizes.
Charms are wonderful gifts for people who have such bracelets. They can be giving to acknowledge milestones such as a birthday, Christmas, graduation, prom, wedding, or giving birth to a baby. Someone who wants to give a charm but isn't sure what type to buy might consider giving an entirely new bracelet so that the recipient can begin collecting a second set of charms.
AS FEATURED ON:
AS FEATURED ON:







By: Ravenna

A charm bracelet with tiny ladybugs and other small, colorful charms.

By: sourabhj

Queen Victoria raised the rank of the charm bracelet from superstition to fashion.

By: Andy Dean

Charm bracelets often represent friendship.

By: DNF-Style

Charms can represent important milestones.

By: Hallgerd

Charm bracelets might help someone celebrate their birthday.