Spit curls are small curls of hair that look as if they are glued on, usually around the sides of the head. They became popular during the 1920s and were worn by several actresses, including Clara Bow. The cartoon character Betty Boop further popularized the look, and they remained popular through most of the 1930s. Since then, they've come in and out of style, depending upon the year's hair fashion trends.
The unglamorous name for spit curls suggests how they stayed locked on the head. Normally, women would set small tendrils in the front of their hair with bobby pins, and then would position them by licking or wetting their fingers to hold them in place. Modern curls are probably more durable and better shaped by using plain water, gel, pomade, or styling spray. To keep the curls in place and firmly against the head, a generous supply of hairspray is needed to finish the look.
While in the 1920s, spit curls might cluster around the forehead, temples, and sides of the head, more modern styles might only feature one or two, normally on the sides of the head at the cheekbone. They are relatively easy to produce in small numbers; it gets much more difficult when a person is trying to frame the face with lots of curls.
One of the keys to producing good curls is either not washing the hair first so it is fully dry, or placing bobby pins in the little side hairs while it is still wet. It can help for individuals to use a curly hair spray or gel so the curls will hold. The hair should be completely dry before the bobby pins are removed, especially if the person has very straight and fine hair, since this will produce the greatest hold. The person should use spit or any of the above-mentioned products to arrange the hair into a spiral and use hairspray once the curls are arranged. Some people prefer only a tiny curling upwards, while others want a full circle.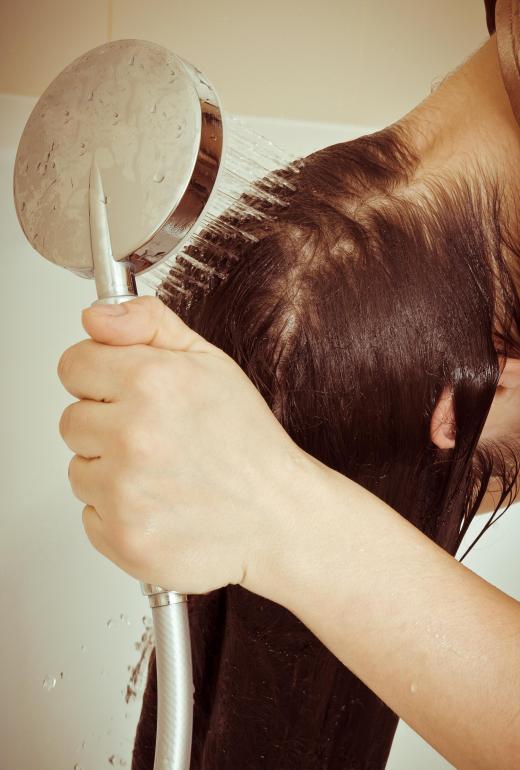 Women may wear spit curls only on occasion because they're challenging to produce and labor intensive. Celebrities might wear them at a special event, like an awards shows. Unfortunately, it's very hard to produce the look with a curling iron, which would save significant time. Usually, these curls are simply too short to work on even the narrowest of tools. People who have naturally curly hair that is cut short on the sides or forehead may find that the hair lends itself easily to this style.
AS FEATURED ON:
AS FEATURED ON:







By: Alexandr Makarov

Hair spray, which can be used to set spit curls.

By: Roman Gorielov

Clean hair can actually make it more difficult to form spit curls.