Stud earrings are a kind of ear jewelry made up of a small component that fits onto the earlobe and does not dangle down. While the size of a stud can vary quite a bit, earrings that extend beyond the perimeters of the earlobes are not generally included in this definition. One of the identifying features of this type of earrings is the way in which they are fitted onto the ear: in almost all cases, they are affixed with a post rather than a hook. The material used and the shape of these materials can vary quite a bit.
There is a range in the quality of stud earrings. There are some pairs on the market that are inexpensive and are made with non-precious metals. They may be made entirely of metal or may be adorned with enamel, glass, resin, or plastic components.
On the other hand, there are studs that are incredibly valuable. These earrings are usually made with precious metals such as gold, white gold, and platinum. The adornments may be made of precious stones such as diamonds, rubies, sapphires, or emeralds. The size and quality of the stone largely determines the price of the earrings. Stud pearl earrings are also quite common.
Of course, there are also earrings that fall between these two categories. They make use of more affordable metal, such as sterling silver, and may include natural stones, but are likely to include gems that are semi-precious instead of precious. Such stones may include turquoise, rose quartz, rutilated quartz, amethyst, or garnet. These sorts of earrings can be quite large as studs go without being prohibitively expensive for most people because an orb of rose quartz, for example, is much less expensive than a diamond of the same size.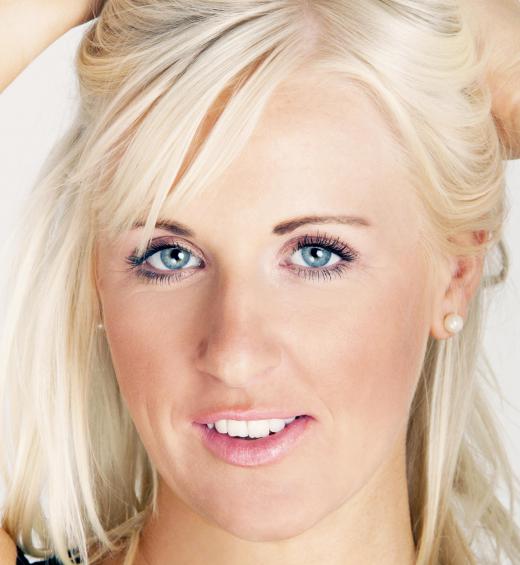 There are many cases in which stud earrings are made as part of a jewelry set that includes a necklace. As studs are rather small as earrings go, they are sometimes paired with large, extravagant necklaces. This is done so that the ears are a bit accented, but the necklace is the featured item. In other cases, the necklace is a bit more demure and the entire look is meant to be elegant, yet understated.
AS FEATURED ON:
AS FEATURED ON:







By: alarsonphoto

Sapphire and diamond stud earrings.

A woman wearing a diamond stud earring.

By: elavuk81

A woman wearing pearl stud earrings.

By: tom

Diamonds, which are often used to make stud earrings.

By: Aleksandras Naryshki

Rose quartz may be used in stud earrings.