What are the Most Flattering Earrings for my Face Shape?
Earrings can add the perfect accent to any look and the earring styles out there today are virtually endless. Yet earrings can be categorized into a handful of basic types and some types tend to look better on some face shapes more than others. Thinking in terms of what your basic face shape is can help you find your most flattering earrings.
ROUND: Long earrings can help make a round face look less round. Long drops and chandeliers are usually the most flattering for this face shape. Larger angular earrings may also work well. Stud earrings, tiny earrings and button or ball shaped earrings should be avoided for the most part as they tend to do nothing for a round face. Round hoops may not be the most flattering earrings for a round face shape either, but longer oval or angular open designs may work.
HEART OR TRIANGULAR: Since this face shape is wider in the forehead and narrower in the chin, the most flattering earrings for this type are often wider on the bottom and narrower on top. Inverted triangles and regular teardrops tend to compliment the angles of a heart-shaped or triangular face. Round hoops don't usually flatter this face shape, but oval earrings may work nicely.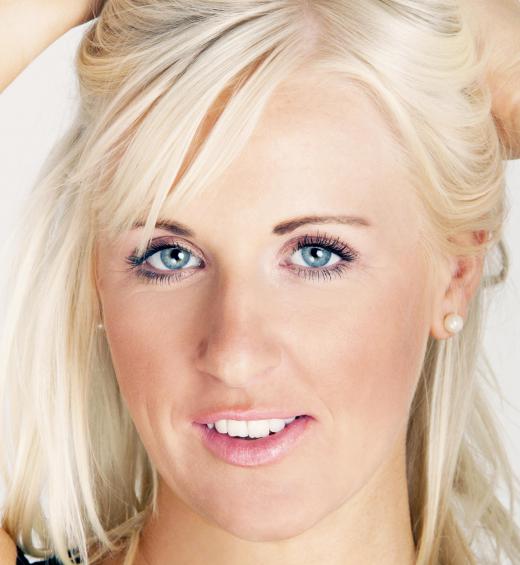 OBLONG: Studs and button earrings tend to suit this long face shape as they bring the eye up and don't appear to be dragging the face downward. Round hoops usually look good and chandeliers can often compliment this face shape as well since they are wider dangling earrings. Multi-layered styles can be the most flattering longer earrings for oblong face shapes.
SQUARE: This face shape tends to have a strong jaw line and larger round hoops can be the most flattering earrings to compliment the look of a square jaw. Square earrings of any size or style generally aren't the best kind for a square face. Dangling earring styles do usually work with this face shape.
OVAL: Since the oval is considered the most versatile face shape, just about any shape and style of earrings may be flattering. The thing to remember is to pick sizes that suit your build and to experiment to find the most flattering earrings for you. Round hoops and studs may work better than long styles.


A woman wearing stud earrings and hoop earrings.

By: aleksandrn

Oval earrings, which often look good with a triangular face.

By: elavuk81

Oblong and oval faces can do well with stud earrings.