What Are the Benefits of a Baking Soda Face Scrub?
Individuals who are looking for a safe, gentle, and inexpensive exfoliation method may wish to consider using a baking soda face scrub. This particular skin care treatment has a number of advantages over many commercially available exfoliants, masks, and scrubs. Baking soda is easy to access, extremely inexpensive, and can be blended with other ingredients in order to make a customized face scrub. In addition, baking soda can also be used in other personal care preparations and is simply quite useful to have around the house.
Baking soda, more properly known as sodium bicarbonate, is a staple in many homes because it can be used as a leavening agent in baking, as a household cleanser, as well as a treatment for skin problems. One significant advantage of keeping a box of baking soda in the house in order to make face scrubs is that even if a person decides to use a commercial scrub, the baking soda will still have significant utility around the house. This, combined with its low cost, makes using a baking soda face scrub a very economical skin care option.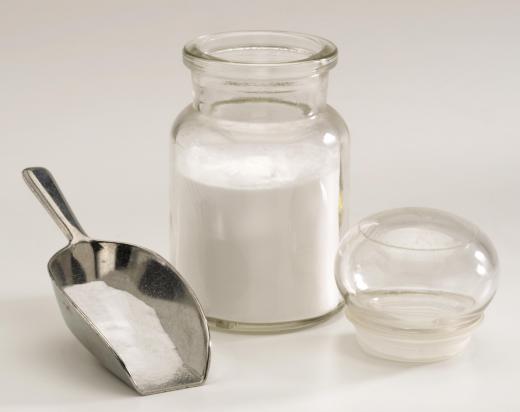 Preparing a baking soda face scrub is quite easy. All an individual needs to do is combine baking soda with some type of liquid. After the baking soda and liquid are combined, the user can then rub it on his or her face. The crystalline structure of the baking soda acts as an exfoliant and removes dead skin cells. This can improve the appearance of the skin. Many people use face and body scrubs before shaving, because the removal of dead skin cells can result in a closer shave.
Unlike commercially prepared face scrubs, a baking soda face scrub can be customized according to the user's preferences and skin care needs. For example, many people have skin sensitivities and can only use certain products on their face. If someone finds a mild cleanser that works for her skin, she can easily combine the cleanser with some baking soda in order to create a non-irritating scrub that can also be used for washing the face. Similarly, a person with very sensitive skin can reduce the amount of exfoliating particles in a scrubbed by simply using a smaller amount of baking soda in proportion to the liquid with which it is blended. Finally, by making a homemade face scrub, a person can experiment with using a variety of liquids, including cleansers and moisturizers, in order to create a skin care product that works best for her.
AS FEATURED ON:
AS FEATURED ON:







Jar and a scoop with baking soda (sodium bicarbonate).

By: WavebreakmediaMicro

Regular face washing with proper products helps keep skin smooth and healthy.

By: ipag

Some commercial facial washes and other skin care products contain baking soda.

By: Piotr Marcinski

Baking soda face scrub can be used to improve the appearance of skin.

By: alephnull

By making a homemade baking soda face scrub, a person can experiment with using a variety of liquids.