What Are the Best Tips for Lightening Eyebrows?
The best procedure for lightening eyebrows is to use an eyebrow bleaching kit. Bleaching the eyebrows can lighten them one shade or several, and it can allow people who have darker brows to change the color by following up the bleach with an eyebrow tint. Select a bleaching product that is specifically designed for use on the eyebrows, because other dyes and bleaches might be too harsh for use near the eyes and on delicate facial skin. Following the product instructions is key, especially regarding the length of time the bleach should remain on the eyebrows.
To begin lightening eyebrows, a bleaching kit that is designed specifically for facial hair should be purchased from a drugstore or beauty supply store. Hair dye kits are not acceptable substitutes for eyebrow bleaching kits when it comes to lightening eyebrows. The active ingredients in hair dye kits are often too harsh to be used so close to the eyes or on the highly sensitive skin in the eye area.
Before lightening eyebrows, it is important to thoroughly wash the face to remove any dirt, oil or makeup. After the face is clean, it will be necessary to thoroughly mix the cream bleaching and powder activator that come in the eyebrow bleaching kit. Generally, eyebrow lightening kits come with an applicator for the bleach, but people who plan to use their fingers instead should wear plastic gloves. The bleach cream must fully coat the eyebrows to make sure that every single hair will be lightened equally.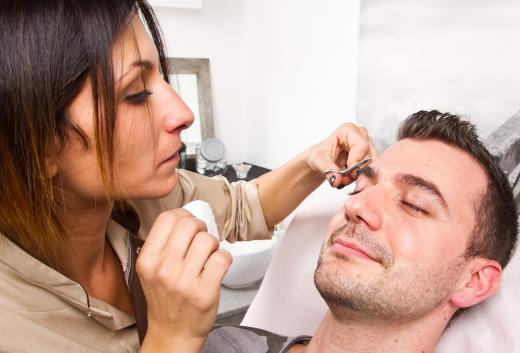 The package directions will dictate how long the bleach should be left on for lightening eyebrows, but it is always best to remove the cream earlier than later so as not to over-lighten the brows. It will always be possible to reapply bleach if the brows are not light enough, but it is much more difficult to correct brows that are bleached too light. As much bleaching cream as possible should be removed with a dry or damp cloth or cotton pad before the skin is cleansed. Washing the face with lightening cream still in place can smear the bleach over the skin and increase the risk of coming in contact with the eyes.
Even though bleaching is the most reliable and most long-lasting method of lightening eyebrows, there are more temporary options. Some light-colored eyebrow pencils are soft enough to deposit pigment on top of the eyebrows hairs instead of on the skin, which can help make the brows appear lighter. Similarly, colored brow mascaras can achieve similar effects. These are temporary solutions that will be washed off with water, however. Additionally, even the best brow pencils and mascaras might not be able to lighten very dark or thick eyebrows.
AS FEATURED ON:
AS FEATURED ON:







By: Xuejun li

Some light-colored eyebrow pencils are soft enough to deposit pigment on top of the eyebrows.

By: Lsantilli

It may be helpful to trim eyebrows before lightening them.

By: thomasklee

It's important to use products that are specifically designed for eyebrows.

By: bedya

Colored brow mascaras may be used to temporarily lighten dark eyebrows.

By: Alexey Klementiev

Bleaching is an effective way to lighten eyebrows.