What Are the Best Tips for Updos for Fine Hair?
Fine hair can be difficult to style in an updo because it often lacks volume and does not maintain a set style as well as thicker hair. Updos for fine hair can also sometimes appear somewhat flat and lifeless and even create the illusion of less hair than the woman actually has. If properly secured, however, the lightness of fine hair can actually help a woman keep an updo style for a longer period of time as it lacks the weight of thicker hair. Fine hair also takes much less time to style, and it can provide a more sleek, elegant look. Hair extensions, hot rollers, and product — hairsprays and mousse — are all tools in creating spectacular updos.
There are a number of tips for women to take into consideration when creating updos for fine hair. They can add volume with the help of a hair piece or hair extensions. These give the illusion of thicker, fuller hair. Hair pieces and extensions also provide greater amounts of hair with which to create the desired style.
Another tip for updos for fine hair is to create volume with hot rollers. Hot rollers should be applied to the root of hair, providing it with greater lift. Teasing and curls can also be a good way to add fullness and texture. Women with fine hair do need to be careful about adding volume and curls, however, as the hairstyle will be more prone to flattening due to to the fineness of the hair.
Updos for fine hair require a significant amount of product. Maximum hold hairsprays and mousse are recommended because they will keep fine hair in place without weighing it down. Hair waxes and pomades, on the other hand, can both weigh fine hair down and make it appear greasy. A good way to maximize the effect of hair products and increase the staying power of an updo with fine hair is to wash the day before styling rather than on the day. The natural oils accumulated the day after washing can help provide more control over hair and increase its staying power.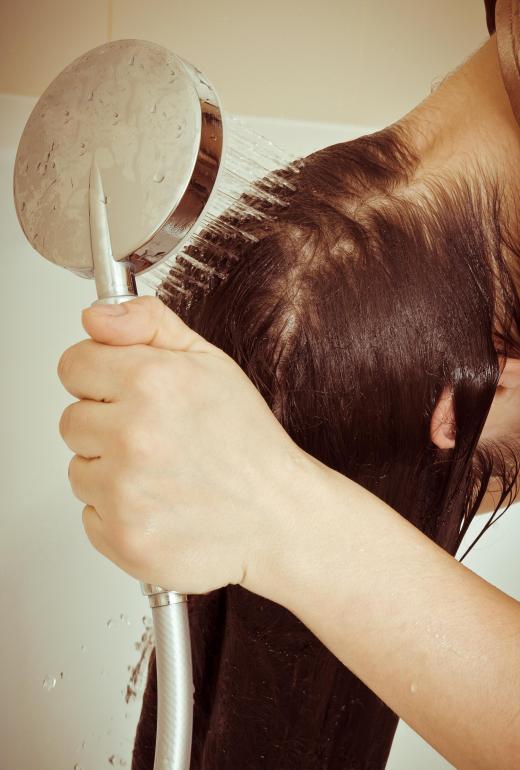 There are several updo styles that work better for fine hair than others. A low bun, either to one side or at the nape of the neck is a good choice as it does not require much lift, and so there is less risk of the hairstyle falling down. If any strands do come out, it simply adds to the style.
Twists also create good updos for fine hair — the twist secures the hair and helps to keep it in place. If the woman has long, fine hair, then pinned-up braids in pretty much any style are good as they can be easily secured. This type of style will also not be weighty due to the fineness of the hair, and like the bun, any strands escaping will just add to the look.
As with most updos, jeweled clips and other hair accessories are great for fine hair. These not only look pretty, but they can also help to secure fine hair in place. Caution must be taken with fine hair, however, to use accessories that are more on the delicate side, as larger, heavier pieces will overpower the look and also be more difficult to keep in place.
AS FEATURED ON:
AS FEATURED ON:







By: MAXFX

Hot rollers can be used to give hair volume.

By: Dash

Fine hair often takes less time to style, and it can provide a more sleek, elegant look.

By: Roman Gorielov

Hair waxes and pomades may help secure an updo, but may be difficult to wash out.

By: alarsonphoto

Hair extensions can be used to create fuller-looking updos.