What are Hair Extensions?
Hair extensions, also called hair weaves, are lengths of real or synthetic hair that are closely attached to a person's scalp, adding length and/or thickness to the person's own natural hair. There are several different systems for attaching hair extensions, some of which are longer lasting than others. When well matched in color and texture, and professionally applied by a competent stylist, hair extensions are designed to mix in and move naturally with a person's own hair, making it difficult to tell the person is wearing them. They can provide volume, extend hair, and add highlights or lowlights. With the proper maintenance, some extensions can last up to a full year before they need to be removed.
Types of Extensions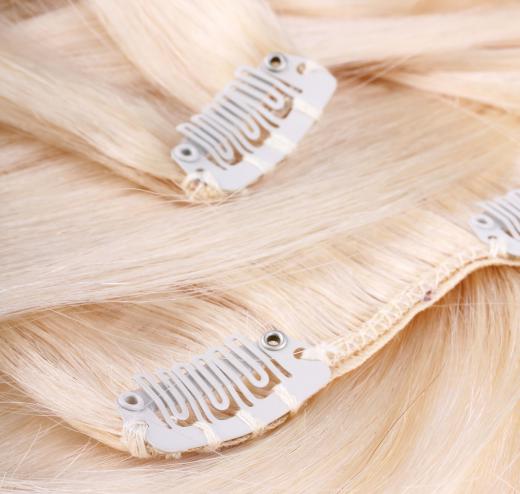 Both human and synthetic hair extensions are available, and both come in a variety of colors, textures, styles, and lengths. Each type has its own set of advantages and disadvantages. Natural or human hair extensions are usually significantly more expensive than their synthetic counterparts, though they are typically considered to be of higher quality. Synthetic hair is made from chemically processed fibers; although more affordable, it may not look as real and can be more difficult to style.
Human Hair
High quality, long-lasting human hair extensions are often available only through salons. The hair can be washed, conditioned, dried, and colored just like a person's own hair. It also tends to provide a great deal of styling freedom; heat styling at temperatures reaching 430°F (about 221°C) should not damage the hair. This typically results in faster and longer-lasting styles with more shine.
Synthetic Hair
Made from various types of synthetic fibers, these hair extensions are often available in a wider variety of beauty supply stores, drug stores, and other locations. The quality of synthetic hair can vary widely, but the two most common types are made of Kanekalon® and Toyokalon® fibers. Of the two, Kanekalon® is the most resistant to heat, and can be styled with curling irons and straighteners at up to 230°F (110°C) without melting or other damage. Toyokalon®, although less heat-resistant, usually tangles less and may last longer.
Application Techniques
Hair extensions can be attached in a number of different ways, depending on the type of hair, the amount being added, the budget of the consumer, and his or her lifestyle. When significant amounts of hair are to be attached, or the hair is expected to last for a long time, a professional stylist typically should be consulted.
Clip-on Extensions
Smaller, temporary extensions usually don't require the services of a professional. The most basic type of extensions simply clip onto existing hair, a process that can usually be done at home without much effort, although a stylist may help attach them or dye the hair to better match the wearer's natural color. Hair attached this way usually only lasts for a day or a night, although they can be reused repeatedly.
Micro Links and Shrink Links
Longer-lasting extensions can be added to natural hair with metal rings or keratin tubing. In this process, the hair is attached to a small ring or tube, which is clamped onto pieces of real hair. This is a popular method, as damage to the natural hair is minimal, and no adhesives or solvents are used that could potentially irritate sensitive skin. They can, however, be difficult to remove, add additional weight to the hair, and can loosen after a few washings, releasing some of the strands. Experts don't usually recommend this method for fine hair.
Bonding
Bonding or gluing usually involves longer wefts of hair, tracks that can be up to 6 inches (15.24 cm) long. An adhesive is applied to the roots of the hair before the extension is applied. This method is usually relatively quick to do, but does not last as long as others.
Fusing
A special adhesive can also be used to fuse extensions into real hair. Small pieces of hair can be attached with this method. Hot fusion may involve braiding the extension into the natural hair and bonding them together with a wax adhesive. Less commonly, cold fusion methods may be used to attach the extensions.
Fusing usually takes several hours to apply, and will usually require a similar amount of time to remove, although it depends on the exact technique and adhesives used. There are products that allow fusion to be done at home but professionally fused extensions tend to last longer and cost more.
Weaving
Hair extensions can also be sewn into the hair. The person's natural hair is usually braided tight and close to the scalp in cornrows, and the weft sewn into the braid. The process can take a long time, as the person's own hair must be braided first, and some people find the entire procedure to be very painful. This method may also be quite expensive, although it usually lasts for a long time.
Choosing a Stylist
Making the decision to get hair extensions can represent a substantial financial and time commitment. The initial cost will be increased with professional products designed to keep the extensions, as well as the natural hair, healthy; extensions also typically require frequent trips to the salon for maintenance as existing hair grows out. An inexperienced stylist can make poor choices resulting in hair damage, so anyone considering hair extensions should choose one who has had the proper training and experience to maximize the investment required.
Hair extension professionals are typically licensed cosmetologists well trained in the many methods of applying hair extensions. When choosing a stylist, a person should ask about training, certification, and experience, as well as be specific about his or her needs and concerns. Some stylists keep a portfolio with photos of past customers, and will offer references upon request.
AS FEATURED ON:
AS FEATURED ON:







By: pavel Chernobrivets

Blonde hair extensions.

By: RTDS

A stylist putting in hair extensions.

By: soup studio

Hair extensions allow people to have long hair instantly.

By: courtyardpix

Bonding hair extensions usually involves longer wefts of hair that can be up to six inches long.

By: Laurent Hamels

Synthetic hair extensions can be economical, but they also tend to look less realistic than human hair.