What Are the Best Tips for Using Color Hair Spray?
Color hair spray can be an effective way to quickly and temporarily color hair with festive and funky colors. Those that enjoy giving their evening look a bit of an edge can typically use colored hair spray and wash it away with a single shampoo, returning their hair to its natural color for work or school. Others may have thinning hair that they want to disguise with a color hair spray that matches their natural color. Either way, it is best to spray color onto clean hair, wear old clothes for the process, and have combs and clips at the ready for fast styling.
Most color hair spray products stick better to clean hair because it is free of oils and dirt that may prevent the color from coming into contact with the surface of the strands. It is also best used on dry hair. Washing hair and drying it with a towel or blow-dryer before using the hair spray is generally a good way to start.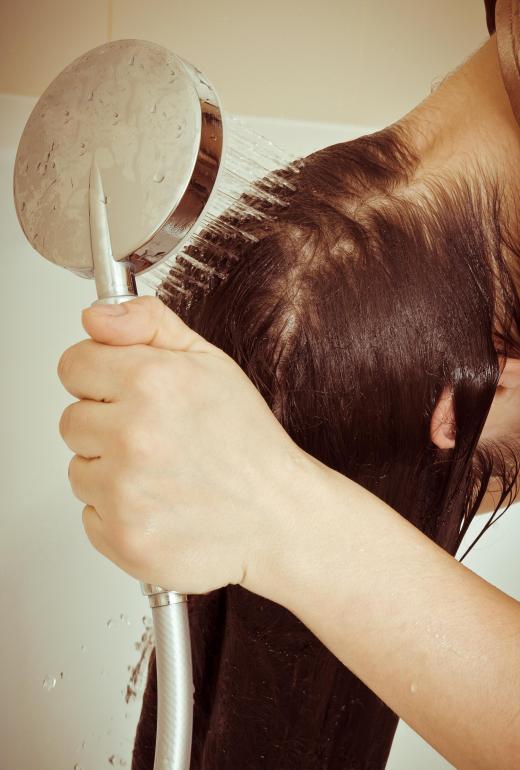 Users should always put on old clothes or carefully cover their clothing with an old towel before using color hair spray. These products often spray in relatively wide streams and contain large amounts of dye, meaning they can stain clothing very easily. Those planning to use color hair spray often may want to designate a certain T-shirt or towel for use during styling. This usually eliminates the risk of ruining clothing.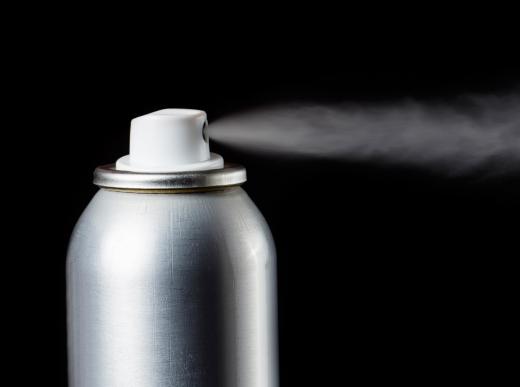 When getting ready to spray hair, users should typically have several large hair clips, a comb, and a shower cap nearby. The user should then use the tines of the comb to separate his or her hair into sections for coloring. This is especially important when using funky colors, like green or purple. Proper sectioning generally prevents the spray from bleeding onto parts of the hair that the user wants to leave uncolored. Spray should be held about 3 inches (about 6 cm) from these sections and applied in short bursts.
A shower cap can be particularly useful if the user wants to color stripes at the front or the back of the head. The cap can cover the rest of the hair, allowing the user to put on as much color as he or she likes. Some users snip holes into the shower cap and pull sections of hair through the holes to create asymmetrical stripes all over their heads.
Those using colored hair spray to make hair look thicker or cover thinning spots don't generally need to use most of the above steps. These users may simply hold their colored hair spray about 6 inches (about 12 cm) from the thinning spot and spray, moving the bottle constantly. Movement helps apply the color evenly. The spray should cling to colorless and very fine hairs to make hair appear thicker.
How to Keep Colored Hair Spray From Rubbing Off
One of the downsides to colored hair spray products is that they rub off easily. This can ruin the look you are trying to give your hair. It can also make a mess if the colored spray rubs off on furniture, clothing, or other surfaces. Having some of the spray transfer onto your hands and clothing is almost unavoidable. This is why it's so important to use clothes or a towel you don't care about during the dying process.
If you style your hair after you spray the color on, you will likely notice the dye staining your brush or other styling tools. Some of it may also flake off into a colorful powder. The good news is, the worst of the color transferring should happen shortly after you spray it on. Once the dye has finished drying completely and you are no longer configuring your hairstyle, it should stay in place relatively well. If you are concerned about staining, consider testing the brand of spray you want to use on a small area first and see how well it stays on after it is dry.
How to Get Spray Hair Color Out
While it is made not to permanently change your hair, you may find that spray hair color does not come out as easily as you expected. It should always fade away on its own, though in some cases this takes time and multiple washes. This can be concerning if you have other engagements coming up, such as work, where colored hair may not be appropriate.
One thing you can try if you find the color is not going away or if an uncomfortable residue is being left behind on your hair is using baking soda when you wash. To do this mix a small amount of baking soda with some water and rub it into your hair. You may use shampoo after the baking soda is applied to help work it into the hair and further wash out any residue that may be left behind.
Getting Spray Out of Fabric or Other Stained Items
In addition to needing to wash it out of your hair, you may find yourself in a situation where you need to clean colored hair spray out of clothing or wipe it off of furniture without leaving behind a permanent stain. If you accidentally stain something it is essential to treat it as soon as possible.
For clothing, this means soaking it with detergent. You can find specific tutorials online for products that work well for removing different colors of dye. For stains on upholstery, carpet or similar, avoid scrubbing as this could cause the stain to become more embedded into the surface. Blot up as much of the stain as you can with a rag and use a cleaning solution to gently soak and pat at the area.
Does Hair Color Spray Damage Hair?
While using colored hair spray every once and a while on healthy hair is usually not a cause for concern, there are some things you should be mindful of before spraying it on. Firstly, consider the brand of hairspray you are choosing. Certain brands may be appealing because they are cheap, but they can contain potentially harmful ingredients such as acetone that can dry out hair and cause damage.
If you have any preexisting treatments such as dye, bleaching, extensions or other alterations that have been made, you may want to avoid color hair spray. Sometimes the ingredients can react badly with those used in other hair treatments, leading to damage or permanently altered color.
Changing Hair Color for the Long Term
If you are planning on having an altered hair color that lasts or want it to look a certain way every day, colored hair spray is not your best option. Using it frequently causes dryness and frizz, and the potential for more serious consequences from the product increases the more it is used.
For long-term hair color consider opting for dye. You can try a semi-permanent color if you want to try out a new look but aren't ready to commit to a permanent color change yet. This type of dye should not last much longer than a month.
If you decide that you like the look of a new color in your hair, a professional permanent dye is one of the best ways to achieve it while protecting the health of your hair. Keep in mind that you will need to buy dye-friendly hair products to go along with your newly treated hair.
AS FEATURED ON:
AS FEATURED ON:







By: Roman Gorielov

Most hair spray dyes can be completely washed out of hair in a single wash.

By: m_dinler

Spray should be held about 3 inches and applied in short bursts.

By: Warren Goldswain

Color hair spray may be one method of hiding thinning hair.