What are the Different Face Shapes?
Human face shapes do not always fit neatly into geometric categories, but five main facial shapes are considered to represent the outline of many faces. These five shapes are: square, triangular, oblong, round and oval. Knowing the approximate shape of your face can help you find a flattering hairstyle, pair of eyeglasses and clothing neckline.
OVAL
An oval face shape is considered the most versatile of the five main shapes. Any hair length usually looks good on this face type, but hair styled away from the face is often especially flattering to the oval face. Ovals can usually carry off a slicked-back hairstyle well, but may also look great with layers. Those with oval faces may want to avoid thick bangs or hairstyles with a lot of height on top.
People with oval faces have many options in the shape of eyeglass frames, but gently rounded square-shaped lenses may look especially attractive on this face type. Sharper-edged square frames may look too harsh on the oval. Any type of neckline usually flatters the oval face. Celebrities with an oval face include Will Smith, Jennifer Aniston and Tyra Banks.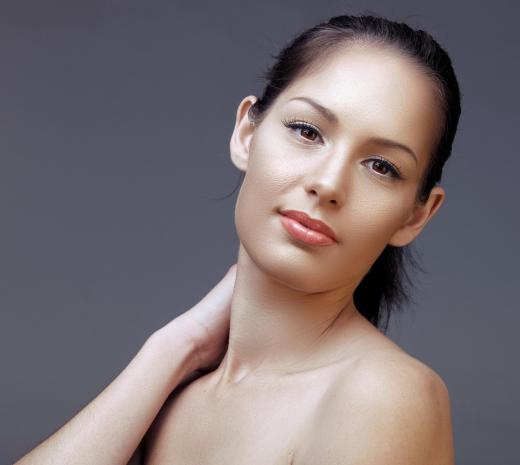 ROUND
Round face shapes are characterized by wide cheeks and a rounded chin. Soft waves of hair that flows downward can minimize the roundness of the cheeks. Those with round faces should avoid really curly or really straight hair. Layers can make a rounder face look less round and cuts below the chin can also create a less circular effect to a round face. Men with this shape should avoid strong side burns, but a beard or moustache may flatter a round face.
Rectangular eye glass frames can balance out a round face. The lenses should not be too small though, or the face may appear too large. Frameless lenses may be very attractive on round faces. The V-neckline is definitely the most flattering for a round face. Celebrities with a round face include Fergie, Alec Baldwin and Catherine Zeta-Jones.
OBLONG
The oblong is a long face that may look like a long oval or more rectangular if the jaw line is more angular. Oblong faces often look great in side-swept waves and chin-length hair cuts as these looks may visually shorten the face. Extremely long hair can make a long shape look even longer.
Men with an oblong face may be able to wear a moustache well as it can add a shortening horizontal line to a long face. The oblong face is often the most difficult shape to find flattering eyeglasses for as unconventionally-shaped lenses may work best, but can be hard to find. Turtlenecks and high neck lines often look wonderful on those with this face shape. Celebrities with oblong faces include Eminem, Ashlee Simpson and Sarah Jessica Parker.
TRIANGULAR
The triangular, or heart-shaped, face is characterized by a small or "pointy" chin and a broad forehead. Soft is the keyword for hairstyles for triangular face shapes as layers and sparse bangs can soften angular features. Those with triangular faces usually look great with either extremely long hair or extremely short hair if the overall appearance is soft and/or layered.
Oval-shaped lenses are usually the most flattering to a triangular face. Higher necklines may suit those with a triangular face best. Celebrities with a triangular face include Reese Witherspoon, Katie Holmes and Justin Timberlake.
SQUARE
Square faces have strong jaw lines and squared-off chins. Strong bangs and chin-length hair styles will only accentuate the square face. Chopped or spiky ends or light layers can soften the square face shape.
Oval eyeglass frames tend to look best on the square face as long as the lenses aren't too small in size. The scoop neckline can soften the look of a square chin and jaw line. Celebrities with a square face shape include Nick Lachey, Demi Moore and Matt Damon.
AS FEATURED ON:
AS FEATURED ON:







By: Subbotina Anna

An oval shaped face.

By: Lvnel

An oblong shaped face.

By: Tiler84

A square shaped face.

By: Subbotina Anna

A triangular shaped face.

By: Tom Wang

A round shaped face.

By: Valua Vitaly

Angular eye glass frames are appropriate for round face shapes.