What Are the Different Types of Eyebrow Jewelry?
Most of the different types of eyebrow jewelry require an eyebrow piercing to wear, but there is an option for those who would rather not get an eyebrow piercing. The most common types of eyebrow jewelry seen in an eyebrow piercing are barbells such as a banana barbell or circular barbell, or rings such as a captive bead ring, although some people choose to wear other, less common options. Generally, non-piercing eyebrow jewelry is limited to adhesive gemstones or shapes because the shape of the eyebrow does not allow magnetic or clip-on jewelry to stay on very well.
A banana barbell is a slightly bent bar, at an angle that may be reminiscent of a banana, with two end pieces, usually balls, gemstones, or other shapes, that screw onto the ends of the bar and keep the barbell from slipping out of the piercing site. A circular barbell is nearly the same as a banana barbell, but the bar is bent into a circular shape instead of a banana shape. A less common piece of eyebrow jewelry is a straight barbell, which is like the banana and circular barbells in function, but shaped into a straight line instead of curved. Most people cannot wear a straight barbell in an eyebrow piercing without discomfort or damage to the piercing site because of the contours of the face.
A captive bead ring (CBR), sometimes also called a ball closure ring (BCR), is another option for eyebrow jewelry. This type of jewelry is shaped into a circle with a small gap. A ball is placed into the gap, and held into place with pressure from the ring's ends squeezing together. Depending on the gauge, or thickness, of the CBR, it might require the use of pliers or other tools to remove the ball from the pressure of the ring.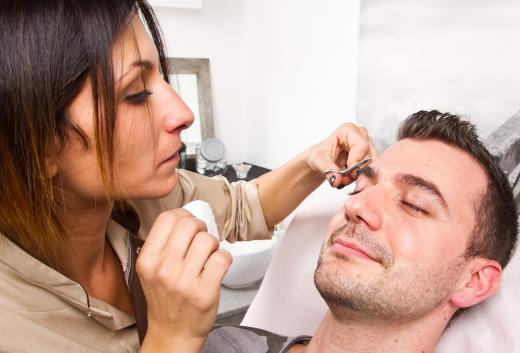 Individuals who wish to wear eyebrow jewelry without needing to get an eyebrow piercing can try adhesive options. These are usually simple gemstones, shapes, or other decorations than can be stuck onto the skin and removed later. To make sure these most closely resemble a true eyebrow piercing, place them at the outer corner of the eyebrow instead of too far in toward the nose. Most people do not get eyebrow piercings anywhere but the outer corner of the eyebrow because of the risk of possible nerve damage and facial paralysis.
AS FEATURED ON:
AS FEATURED ON:







By: Concept web Studio

A captive bead ring is an option for eyebrow jewelry.

By: Lsantilli

Maintaining well-trimmed eyebrows will make an eyebrow piercing appear more attractive.

By: Igor Mojzes

An eyebrow piercing in a place outside of the outer corner of the eyebrow may cause nerve damage and facial paralysis.

By: Meliha Gojak

Salt water can be used to clean an eyebrow piercing and prevent infection.