What are the Different Types of Hand Accessories?
Hand accessories may accent the fingers such as rings, or the wrists such as bracelets and watches. Fingerless gloves cover the entire hand except for the fingers. Sporty hand accessories include terry cloth wrist bands and hand grips.
Cycling gloves are hand accessories that help cyclists get a firmer grip on bicycle handlebars. Full finger cycling gloves also add warmth to bicycle riders' hands in cold weather. Fingerless bicycle gloves fit close to the hand and usually have an adjustable closure at the wrist.
Some types of fingerless cycling gloves have gel padding on the palms to help relieve the pressure put on the nerves in the hands and arms from the constant contact with handlebars when bicycling. The sides of cycling gloves may be made from breathable mesh material, while the top is often made of terry cloth. Terry cloth is a soft, looped absorbent cotton toweling fabric and it is used on bicycle gloves to allow the cyclist to wipe sweat from the face. Fingerless gloves used by motorcyclists are much different from those used by bicyclists as they are designed mainly as protection from the wind. Many fingerless motorcycle gloves are made of black leather and some types feature decorative silver studs.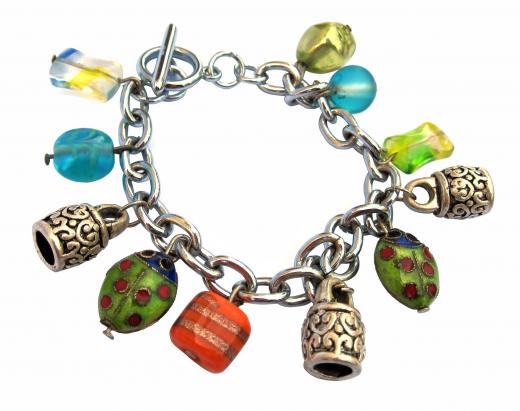 Terry cloth wristbands are hand accessories that are available in many different colors and patterns. They are also called sweatbands since they help keep sweat from dripping from the arms to the hands. Sweatbands or wristbands are also decorative and may be worn in team colors as part of a sports uniform.
The most commonly worn non-sporty hand accessories include rings, bracelets and watches. Men's versions of these items are usually wider and heavier than women's. Men's bracelets may be made of chain links, leather or even shells with a few pendants. Some classic women's bracelets include the loose fitting bangle, the close fitting cuff and the charm bracelet. Charm bracelets feature a main chain with hanging pendants or charms.
AS FEATURED ON:
AS FEATURED ON:







Rings are common hand accessories.

By: Ravenna

Many women enjoy wearing a charm bracelet.

By: Warren Goldswain

Men's watches are usually wider and heavier than women's.