What are the Different Types of Mascara Brushes?
Mascara brushes are available in several different styles, each meant to create a particular finished eye makeup look. Generally, people using mascara have their sights set on achieving volume, length, curl, separation, or all of the above. It is possible to achieve a wide variety of lash looks based on which brush style is selected. The primary types of mascara brushes are straight, curved, and combs; each of these styles can be outfitted with either long, short or rubber bristles.
Straight mascara brushes are popular because they are easy to use and can be very versatile. When the applicator part of the mascara wand, which is the part that comes in contact with the eyelashes, is straight, it is easier to reach small lashes or lashes located in the corners of the eyes. Beginner mascara users might favor straight brushes because they are easy to use and typically forgiving of mistakes. People just beginning to use mascara often need several swipes of the applicator, sometimes held at different angles, to fully coat the lashes, and straight brushes make this possible.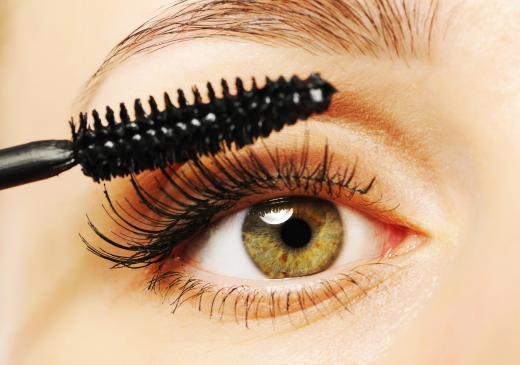 Curved mascara brushes are generally recommended for users seeking extra curl and lift for their lashes. Sweeping the curved brush back and forth across the lashes while simultaneously pulling the brush from root to tip encourages curl and can make eyes look bigger or more open. The application technique is more complex than the requirements for a straight brush, so mascara rookies may want to develop a steady hand before trying curved brushes.
Comb mascara brushes are small, flat, and usually plastic. Individual tines are designed to separate lashes and discourage clumping. Combs are good for exaggerating length, but generally do not add a lot of volume to lashes. As a result, this style of brush may be best suited to individuals who have naturally thick or curled lashes, or those who are just looking for length or separation.
Unlike combs, brushes that are straight or curved have bristles, which are also important for achieving the desired lash style. A brush with short, tightly spaced bristles will be ideal for adding volume to lashes, whereas a brush with long, loosely spaced bristles is best for lengthening and separating lashes. Rubber bristles attempt to combine the qualities expressed by both long and short bristles. A mascara brush with rubber bristles coats even the tiniest lashes, which adds volume, but is also strong enough to coat lashes from root to tip, which adds length. The sturdiness of the rubber bristles also mimics the effects of a comb and separates the lashes.
AS FEATURED ON:
AS FEATURED ON:







By: haveseen

A woman applying mascara to her eyelashes with a straight brush.

By: bedya

It is important to switch out tubes of mascara at least once every six months.

By: beornbjorn

Smudge and waterproof mascara may not run as easily as other types.

By: Minerva Studio

Sharing make-up applicators with other people may spread bacteria and irritate eyelids.

By: Antonioguillem

Mascara should enhance a person's eye color.