What Are the Different Types of Mascara?
So many different types of mascara are on the market today, it may be hard to choose the right mascara. Curling mascaras are typically best for individuals with little to no natural curl in their lashes, while lengthening mascara is excellent for individuals with short lashes. Volumizing mascara can also make lashes appear thicker and fuller. Any one of these mascaras may also be waterproof, including the brightly colored mascaras, which are sometimes trendy.
Curling mascaras are types of mascara that can help enhance the natural curl of a person's eyelashes. These usually come with a curved mascara wand, or applicator, which helps produce the curl. The mascara formula is usually a little thicker than other types of mascara, and it helps hold the curl. Curling mascara can be used with or without a separate eyelash curler.
For individuals with short eyelashes, lengthening mascaras may be the right choice. These types of mascara contain very tiny synthetic fibers. When the mascara is applied, these fibers bind to the tips of the eyelashes, making them appear longer.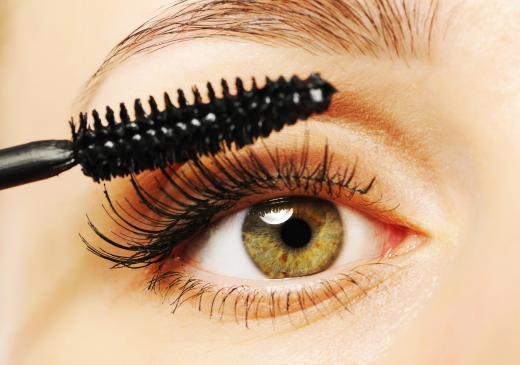 Full, thick eyelashes are often considered a sign of beauty in most cultures, but not every woman is blessed with thick lashes. Volumizing mascara, or thickening mascara, can help women with sparse lashes achieve the illusion of thick eyelashes. The ingredients in these types of mascara are usually somewhat thicker than the ingredients in other types, however, and this can cause the mascara to clump and flake at times.
Active individuals may want to consider waterproof mascaras. The ingredients used in these types of mascara are chosen because they can help repel water. Most waterproof mascara will typically stay on the lashes while a person is sweating, crying, and even swimming. Most of them do require a special makeup remover, however, which can be somewhat harsh.
Brown and black are typically the most common mascara colors. Generally speaking, dark-complexioned individuals can usually wear either brown or black mascara. Fair-skinned individuals, on the other hand, should usually save the black mascara for a dramatic look. Individuals with very blonde eyelashes may also want to consider a clear mascara.
Brightly colored mascara also seems to be popular from time to time. They are often used to create a wild and edgy look. Colors such as pink, purple, and green are available, but blue seems to be the most popular colored mascara. Many makeup artists claim that blue mascara makes the eyes seem brighter.
AS FEATURED ON:
AS FEATURED ON:







By: haveseen

A woman applying mascara to her eyelashes with a straight brush.

By: Africa Studio

Mascara comes in different varieties to suite a person's needs.

By: fotografiche.eu

Failing to wear waterproof mascara when it rains – or when sweating or crying – can cause the makeup to run and smudge.