What Are the Pros and Cons of Dark Nail Polish?
Dark nail polish, or nail varnish, can be an edgy fashion statement, and will often suit a number of styles. It typically looks classiest on short nails. It is important to note this type of nail polish may be somewhat unacceptable in some situations. It can also be very high maintenance, since any chips are typically very noticeable. A base coat must usually be applied to prevent ugly stains on the nails.
This type of nail polish has had its ups and downs in the fashion world. Generally, dark nail polish is now considered acceptable, even fashionable. It does, however, have a bit of an edgy look.
Regardless of their styles, most women can look good when wearing dark polish. Although black nail polish is often reserved for Halloween or Goth styles, other dark polishes can be worn by just about anyone. Instead of a near black polish, a classic dark red polish can be used instead. It is important to keep nails the right length and shape, however, to avoid looking like a creature of the night.
Individuals with short fingernails typically look best wearing dark nail polish. Some fashion experts believe dark polish on long fingernails looks a bit tacky. Also, many experts recommend wearing dark polish on slightly rounded fingernails.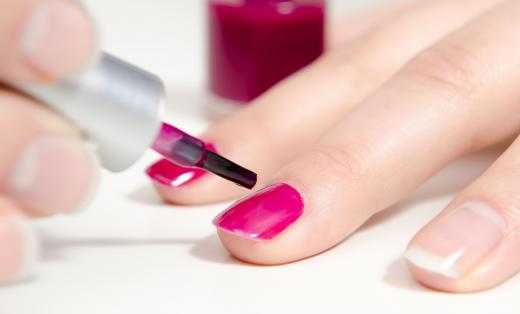 Many conservative women may shy away from dark nail polish. It may also be frowned upon in some places of employment, such as conservative offices. Some older individuals may find dark nail polishes unprofessional or childish. The best way to find out if a work place allows this type of nail polish is by reading the dress code section of the employee handbook. If it can not be found there, an individual may want to ask a supervisor what types of nail polishes are acceptable.
Dark nail polish is also usually high maintenance. Unlike natural or light nail polish, it is very noticeable when dark polish chips. It is usually easier to remove all of the polish on a chipped nail and reapply it than to try to touch it up. To prevent nail polish from chipping, a small amount of it should be extended to underneath the nail tip.
When applying dark nail polish, a base coat should be brushed on first. This will help prevent stained nails. Fingernail polish stains can be difficult to remove, but it is possible. Some women may find that they may be able to buff the stains out with a nail buffer. Soaking stained nails in hydrogen peroxide may also work.
Is Dark Nail Polish Bad for Your Nails?
There's a common belief that dark nail polish can harm your nails. But the truth is a bit more complex. You may have noticed some yellow discoloration on your nails after removing dark-colored lacquers. There's a really interesting scientific explanation behind this phenomenon: It's all about biology and chemistry.
The Structure of Human Nails
Everyone's nails are composed of keratin, a special protein that's also present in human skin and hair. The keratin in our nails has more sulfur-based compounds that form molecular bonds, making nails harder than hair and skin.
Each nail grows from a matrix, which pushes out older cells as new ones grow. Cells in that matrix are still alive. When we look at a nail we're seeing the visible nail plate comprised of these older matrix cells, which die as they emerge past the cuticle. Underneath the nail plate, the nail bed houses blood vessels to provide the nail matrix with nourishment.
Dark Nail Polish and Yellow Stains
Many dark nail polishes contain strong dyes, which can result in unsightly residue deposited onto your nails. Coloring agents from those polishes penetrate the keratin in the nail plate. Eventually, these can leave your nails with a dull unattractive yellow hue. Fortunately, yellow-stained nails are not permanent. You can fight back by following some smart advice:
Always use a base coat. A thin layer of this clear coating forms a barrier between your nail plate and the next layer of polish.
Avoid nail lacquers with certain types of dyes. Watch out for D&C Red Numbers 6, 7 and 34, plus Yellow Number 5 Lake.
Limit your use of nail hardeners. These often contain compounds like formalin and glyoxal that make nail stains more likely.
In addition to these tips, you'll want to keep a few other things in mind. Constantly wearing dark nail colors back-to-back can prevent the yellow stains from fading — or worse, these stains can linger. Consider going polish-free between manicures to let your nails breathe. Clear polish and lighter colors can also reduce the chances of yellow stains. If you're already battling these stains, try soaking them for 10 minutes in lemon juice or a solution of four parts water with one part hydrogen peroxide.
Are Dark Nails Unprofessional?
The debate about dark nail colors in the workplace continues. Many people don't think it's a big deal, but others with more conservative leanings suggest that it may be inappropriate. In truth, there's no hard-and-fast rule on this.
Contemporary hiring managers are less likely to frown on darker shades. Some even assert that there's no such thing as an unprofessional nail look. Of course, your own experiences may differ depending on the career field you're in. Your choices may also depend on the setting. You may choose your favorite go-to shade for a standard day at the office but err towards conservative colors for a job interview.
Nailing Your Job Interview Manicure
With all that said, it's important to keep your nails well-groomed and your manicure on-point no matter what color or design you select. Men, this advice goes for you too: Great-looking nails and hands reflect care for your image and a professional attitude. Start by keeping your hands exfoliated and moisturized, as well as your nails smoothly filed. Don't forget to push your cuticles back — this removes dead skin cells and prevents infection. Complete a basic home manicure with some easy steps:
Apply your base coat of choice. 
Allow the base to dry for two minutes.
Paint on your nail lacquer, ensuring smooth and even coverage.
Apply a top coat once your color has dried.
After you're done with the main part of your manicure, Remove any smudges or spots on your skin and around the cuticles. You can do this with a small paintbrush dipped in a light amount of acetone.
Is Black Nail Polish Classy?
Just like beauty, classiness is in the eye of the beholder. Once confined within music subcultures such as punk and goth, black nail polish has long since become mainstream. When neat and well-manicured, black nails can project an air of confidence and authority. Depending on the wearer, they can also show off an individual's creativity and willingness to break from convention.
Wearing black nail lacquer can earn you high marks for style and sophistication. This bold color works best on shorter nails with neat rounded tips. When applying black or any dark-hued polish, don't rush the process. Paint on thin layers of polish to avoid smudging and excess polish oozing around the edges of your nail plates.
AS FEATURED ON:
AS FEATURED ON:







By: travis manley

A bottle of nail polish remover.

By: frankdaniels

Darker polishes, like the color red, can leave nails stained once the polish is removed.

By: larisabozhikova

Darker nail polish colors are more susceptible to clumping.

By: Monika 3 Steps Ahead

Dark nail polish is considered fashionable.