What is a Chocolate Diamond?
A Chocolate Diamond™ is a type of brown, fancy-colored diamond that is sold by LeVian Jewelers. The term is also used more generally to refer to any brown diamonds. These stones are very common and were largely thought to be worthless until the late 1980s, when LeVian began a marketing campaign to increase demand for them. There are synthetic versions of these gems, but they are typically considered less valuable than natural ones, and brown diamonds are generally less valuable than white ones.
Natural and Synthetic Formation
The color of natural chocolate diamonds is thought to be created by pressure surrounding them as they form, which causes irregular shapes in their molecular structure. Radiation can also affect the color, as can trace elements like nickel and nitrogen. Each of these three factors can be reproduced in a lab to create synthetic versions of these gems, which often have a deeper color than natural ones. The degree of pressure, radiation, or elements in the stone can cause color variations ranging from light brown to dark olive, leading chocolate diamonds to be generally categorized as champagne, honey, cinnamon, cognac, or clove.
Chocolate vs. Other Colors
The only difference between chocolate diamonds and others is the color — they all have the same strength, hardness, and other properties. Despite this, brown diamonds are generally considered to be less valuable than most other types because they are very common, were historically used for industry instead of jewelry, and are often color-enhanced. They also have a bad reputation in some areas because they are sometimes treated to make them look like white diamonds and then sold with fraudulent labels.
Choosing a Chocolate Diamond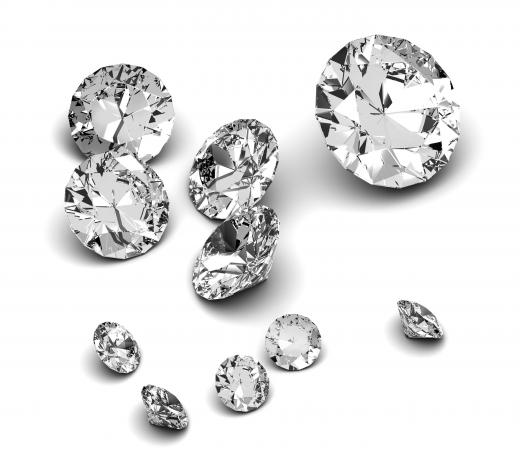 People buying these stones should consider the "Four Cs," which are color, clarity, cut and carat weight. Buyers should ask for a certificate from a reputable, independent gemology laboratory guaranteeing that the seller's description of these four aspects are accurate to avoid getting color-treated gems or those with hidden flaws. The best chocolate diamonds have a naturally strong color and are very clear, with imperfections that can only be seen through a jeweler's loupe, if at all. The cut of the stone is rated by its depth and width, along with its facets, which should be consistently uniform.
The carat (ct) weight of a gem is determined by its actual weight, with different numerical rankings being assigned for every 200 milligrams of weight. Those weighing less than 200 milligrams are measured by a point system, with each carat having 100 points. Though many people look only at carats, it's important to remember that larger stones may actually be less valuable, especially if they score poorly on the other three Cs. Additionally, if a person wants a true Chocolate Diamond™ instead of just a brown diamond, he or she should check with the jeweler and look for the LeVian trademark to be sure of getting a genuine product.
AS FEATURED ON:
AS FEATURED ON:







By: Gnel Karapetyan

Chocolate diamonds.

By: Rozaliya

Rings, including one with chocolate diamonds.

By: tom

White diamonds.

By: WavebreakMediaMicro

Synthetic gems may be produced in a lab.

By: EcoPim-studio

Cognac diamonds were named for their dark brown color, which is similar to cognac.