What is a Complexion Mist?
A complexion mist is a liquid spray used for freshening the face. When applied to facial skin before using moisturizer, it may also help to absorb the moisturizer's ingredients. Spraying the face and neck before putting on makeup generally provides for smoother application as well, and misting with the same spray also can help to set makeup once applied. Used alone, a complexion mist may cool the skin in hot weather or can provide needed moisture in dry indoor environments or while outdoors.
Ingredients in a complexion mist vary greatly. Some products are simply water in a spray can or plastic bottle, while others are complex mixes with long ingredient lists. While the base of most mists is water, some may have a high alcohol, witch hazel, or silicone content based on their intended use. A silicone-based complexion mist may be designed to prime or smooth the face for cosmetics, while an alcohol or witch hazel mist may be intended for use after facial washing and before moisturizing or for controlling oils in the skin throughout the day.
With the increased popularity of mineral-based powder makeup, spray products are sometimes marketed for use as the final step in creating a natural finished look and for minimizing a powdery cast. Mists often contain moisturizing oils, aloe, or synthetic compounds for leaving a soft feel to the skin. Using a complexion mist made of rose water has long been considered by many to be effective for toning the face and adding a glow to the complexion.
Those who live in dry climates or in wintry regions may keep a complexion mist on hand for reducing the tautness of parched skin brought on by lack of natural humidity or too much artificial indoor heat. Individuals who suffer from conditions that raise the body temperature and women going through menopause may find relief as well by spritzing a fine mist of water and moisture on the face during the night. Athletes can refresh and cool down by keeping a complexion mist nearby during workouts or on hand during prolonged activity outdoors.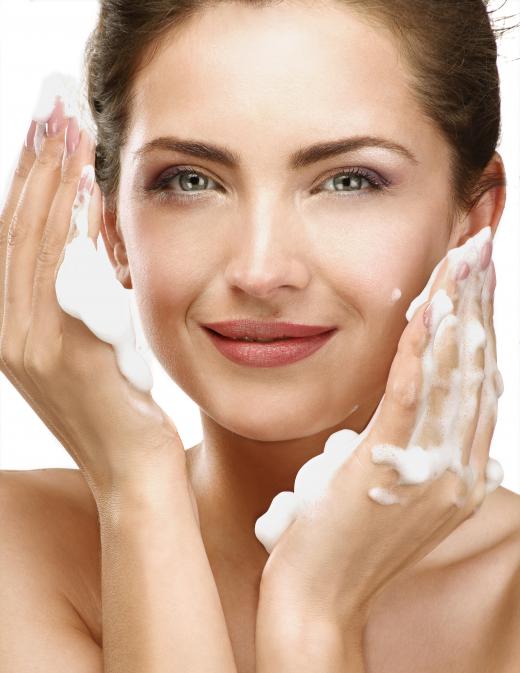 While toning and refreshing the skin may be common uses, some companies have begun creating mists that multi-task. Sunscreen and bug repellent ingredients can now be found in a complexion mist, as can acne medication and bronzer. The varieties are endless — a mist can be unscented or highly scented, organic or synthetic, inexpensive or very pricey. It can be manufactured for beauty, health, or athletic purposes, or it can be made with ingredients at home.
AS FEATURED ON:
AS FEATURED ON:







By: dianamower

Some complexion mists contain witch hazel.

By: Artem Furman

Complexion mists soften and moisturize facial skin.

By: ipag

Complexion mist is typically used after facial washing as part of a comprehensive skin care routine.

By: micromonkey

Complexion mist can be used on varying skin tones.

By: Valua Vitaly

When applied to facial skin before using moisturizer, a complexion mist may enhance the moisturizer's effectiveness.