A corsage is a single flower or several small flowers worn pinned onto clothing or on an elastic band around the wrist. The flowers are usually worn to indicate a special person on a special day, such as a groom on his wedding day or a girl going to her prom. The type and style of flowers can vary, depending on who's wearing it and what event he or she is attending.
Corsages that are worn pinned to the clothing are generally worn on the left side, just under the shoulder. The flower should be pinned with the stem down, the same way it would be planted in the ground. It should also be pinned at an angle away from the face so it doesn't rub against the cheek or the chin. If a woman is wearing a strapless dress or doesn't wish to wear a corsage up that high, it can also be pinned to the left side of the waist.
With a wrist corsage, the wearer doesn't have to worry about damaging the fabric of her dress with a heavy pin. By keeping the flowers on the wrist, it also ensures that they won't be the evening's focal point, since those worn too close to the face can be distracting for both the wearer and anyone who strikes up a conversation with her. A wrist corsage should be worn on the left wrist, so the woman who will be wearing one might want to limit the amount of jewelry that she wears on that hand.
Both men and women may wear a corsage to a prom, although they are more common for women. Only women wear wrist corsages, in most cases. The flower or flowers are traditionally purchased by a young woman's date, who is informed of her dress color ahead of time. It's important to know what she is wearing in order to get an arrangement of flowers that matches. Most prom-goers today prefer to wear a flower or two around the wrist, though there are still some who wear them pinned just underneath the left shoulder. Although less common, a young woman may also buy her male prom date a corsage, which is usually just a single flower, perhaps with baby's breath or a few leaves to set off the bloom.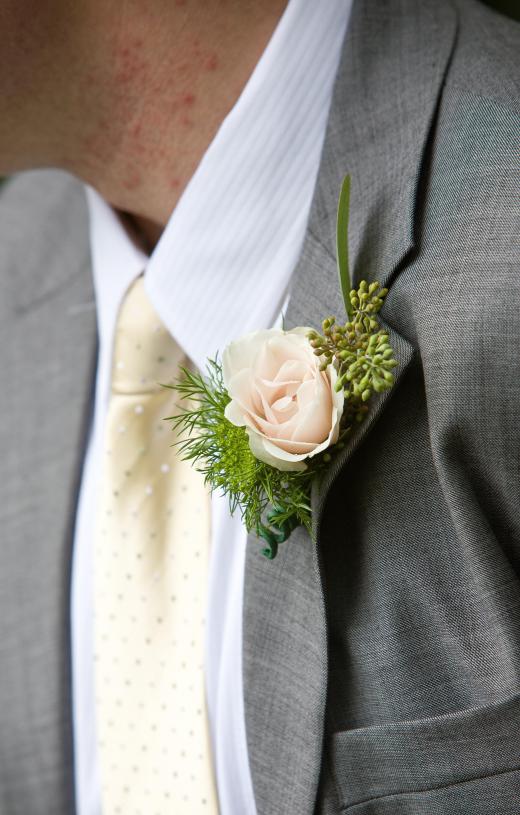 At a wedding, women who have a special relationship to the bride and groom also wear a corsage. In most cases, the mothers and grandmothers of the bride and groom wear one, though sometimes a special aunt, sibling, or cousin can also receive one. The groom and groomsmen often also wear flowers on their lapels, often matching a flower in the bride's bouquet. The flowers than men wear are often called boutonnieres.
Guests of honor at parties or showers can also wear a corsage, as can those who are making their First Holy Communion or Bat Mitzvah. Wearing flowers on a special occasion is a time-honored tradition that can help a person special and make the occasion even more significant.
AS FEATURED ON:
AS FEATURED ON:







By: eyeQ

At a wedding, the corsages often match the bride's bouquet.

By: BVDC

A high school girl may receive a wrist corsage on her prom night.

By: Eric Limon

Grooms may wear a boutonniere, or a male version of a corsage, on their wedding day.

By: jakken

A corsage may be worn for a religious ceremony like a first communion.