What Is a Cuticle Nipper?
A cuticle nipper is a small tool that is used to trim or cut back the cuticles on the fingernails or toenails. These tools are usually made from a durable metal such as stainless steel. They are designed with a two-pronged handle that fits in the palm of the hand. At the end of the cuticle nipper is a metal jaw with sharp edges intended to grasp and cut away excessive skin around the cuticle. The jaw is usually one inch (about 2.5 cm) deep or less.
It is common for nail technicians to use cuticle nippers during spa treatments for the feet and the hands. In order to maintain important hygienic standards, a cuticle nipper must be disinfected between clients. Even skilled nail technicians sometimes accidentally cut the cuticle too low and cause a small amount of bleeding around the nail bed. The risk of bleeding, even in small amounts, means that a cuticle nipper must be sterilized between clients.
Some people who prefer to enjoy manicures and pedicures at home instead of at the spa use spa-quality products at home. Cuticle nippers fall into this category. In fact, some companies that sell personal care items offer kits which include all of the tools necessary to complete at-home hand and feet treatments. It is common for such a kit to include a cuticle nipper. The prices of nippers and the sets that they are included in vary widely. The more expensive models are usually spa-quality, made of durable materials, and are less likely to break.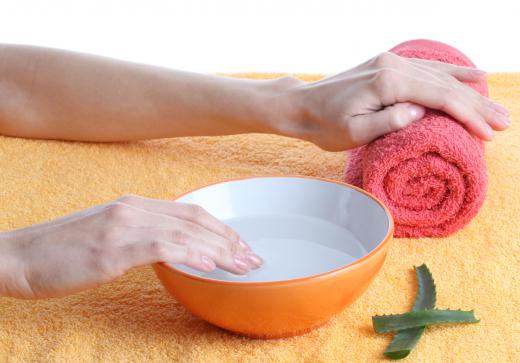 There is some debate as to whether or not it is good to cut the cuticles around the fingernails and toenails. Some people believe that cutting the cuticles is bad for the health of the nails. Other people believe that long cuticles look unkempt and unsightly and that cutting them back does no real harm. Luckily, there is a tool that does pretty much the same thing as a nipper without cutting away the cuticles.
For those who prefer not to cut the cuticles, a cuticle pusher may be used instead of a cuticle nipper. Instead of actually cutting back the cuticles, a pusher literally just moves the cuticle back and away from the nail. This leaves the nail bare and prepared for buffing or polish. A cuticle pusher is also more hygienic than a cuticle nipper because it is much less likely to cause bleeding around the beds of the fingernails or toenails.
Why Do Some People Use a Cuticle Nipper?
The purpose behind both cuticle nippers and cuticle pushers is to move the cuticles away from the nail surface. This is done purely for cosmetic reasons; it doesn't improve the health of nails or provide other benefits.
Some people simply prefer the look of nails without the cuticle present. Without cuticles, fingernails and toenails look slightly larger, longer and better defined. This effect can give your hands and feet a cleaner, more elegant appearance.
If you want to rock a French manicure or colorful nail art, having that extra space at the top of the nail gives you a larger canvas to work with. A well-defined nail border creates greater contrast between your skin and the nails, making the painted nail surface appear brighter and shinier.
Also, it's worth mentioning that acrylics, gels, accents and nail polishes are all designed to adhere directly to your nails, not to cuticles. Not having cuticles to worry about can make nail polish stay beautiful longer without peeling off.
How To Use a Cuticle Nipper Correctly
Using a cuticle nipper the correct way can minimize your chances of accidentally cutting yourself or causing an infection. For the best results, use a cuticle pusher as well. Follow these steps to enjoy attractive nails pain-free.
Soak your nails: It's easier to cut cuticles when they're soft and hydrated. You can soften them by letting your hands soak in a warm tub of water for about 10 minutes. The best time to cut your cuticles is after relaxing in a hot shower or bath.
Apply some moisturizer: Follow this step if you have dry skin. It's a good idea to apply some cuticle oil or moisturizing cream a few times a week anyway. This helps loosen cuticles that are adhered firmly to your nails.
Clean your cuticle nipper and cuticle pusher: DO NOT skip this step. This is one of the most important ways to prevent infections when trimming your cuticles. Wash nail tools with antibacterial hand soap and warm water, rinse and dry using a clean paper towel or cotton ball.
Disinfect the cutting edges: Wet a cotton swab or cotton ball with rubbing alcohol. Sanitize the tips of the cuticle nipper.
Push the cuticles gently back: Use your cuticle pusher to help loosen the cuticles from the nails. You don't need to push them all the way back, just enough to make them easy to reach with the nipper.
Carefully cut away the dead skin: The cutting edge of the nipper should be facing down toward the fingernails. Slowly snip the dry skin of the cuticles. You can gently pull upward to lift this dead skin away from the nail.
Trim any hangnails: While you're at it, feel free to trim any loose hangnails around the edges. Only cut dry, dead skin, though.
DO NOT cut pink tissue: A common mistake is cutting the raised ridge around your nails (called the nail fold). This is not a part of your cuticles. Injuring this area can cause bleeding and significant pain.
Massage some hand cream into the skin: Your nails are cuticle-free (for a few months anyway)! Pamper yourself by massaging some lotion into your hands. This feels heavenly.
What Is the Best Size Cuticle Nipper?
There are several sizes of cuticle nippers, measured by the width of the cutting edge. Small nippers are size 12, called quarter-jaw nippers. Medium nippers (half jaw) are size 14 and large ones (full jaw) are size 16.
If you've never used cuticle nippers before, a size 14 is usually the best choice. Smaller nippers take longer to finish the job, but they also provide better control, especially in tight spots. Only go with a size 16 if you know what you're doing and have large nails.
Why Should a Cuticle Nipper Be Used With Utmost Care?
Cuticles serve an important purpose for nail health. They're designed to provide a seal around the edge of nails that keeps germs and moisture out. This protects growing nails and the skin around them.
Cutting cuticles increases your risk of a bacterial infection or fungal problems. You can get a nail infection if you accidentally cut yourself when trimming the cuticles. The skin around the nail (the nail fold) can become red, inflamed and painful.
Eventually, cut cuticles will grow back again, but this time thicker. Sometimes, the cuticles look dark, rough or uneven when they grow back. If you're too rough with the cuticle nipper, you can also accidentally damage the surface of nails, creating grooves that are hard to ignore.
AS FEATURED ON:
AS FEATURED ON:







By: Valua Vitaly

A cuticle nipper is used to cut or trim the cuticles on the fingernails or toenails.

By: Photographee.eu

Soaking the fingers may help soften the cuticles so that they may be pushed back or clipped with ease.