A cuticle pen is a beauty product that is used to soften and moisturize the cuticle and the skin just around the fingernails. For people who suffer from dry and chapped hands, a cuticle pen can be a useful product to help restore and protect their fingernails and the surrounding skin. It can also be helpful for people who suffer from hangnails which can be quite painful and cause the skin to rip and bleed. Skin that has been moisturized is less likely to chap, crack, and hangnails are less likely to emerge.
This manicure tool looks much like it sounds. It is in the shape of a writing pen. Where the nib of an ink pen would be located, there is a small brush instead. The brush of a cuticle pen is short and soft, connected to the inside of the pen where the moisturizing solution is stored. When the tip of the pen is brushed along the cuticles, the emollient is transferred onto the nail and skin.
A cuticle cream can usually do the same job as a cuticle pen. One of the benefits of a cuticle pen, however, is that it is portable and less messy than a bottle or tub of cream. Many women who like to tend to their cuticles carry these pens in their purses, especially in cold weather when the skin on the hands can become especially dry. The pen can be used at any point throughout the day to restore moisture to that area of the hands.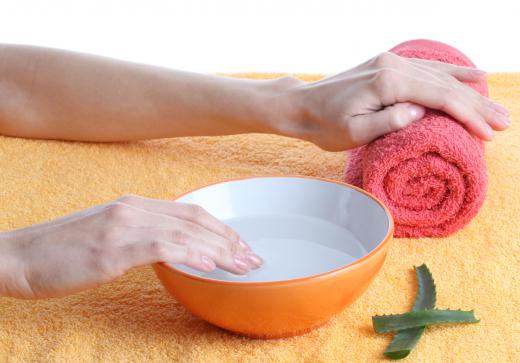 A cuticle pen can be especially helpful for people who regularly wash and dry their hands. Soap and water can draw out the skin's natural oils, leaving hands rough and the skin very dry. In addition to using a good hand cream after washing one's hands, using a cuticle cream or pen can help to keep the nails and surrounding sin moisturized and protected.
There are a number of these types of pens on the market. They are usually sold by companies that also sell manicure tools, nail polish, and hand lotion. In fact, some of the pens are formulated to work well on nails that have been coated with polish from the same line of products. Although cuticle pens are not incredibly common, they can usually be found in large drugstores or pharmacies that carry a good selection of beauty products.
AS FEATURED ON:
AS FEATURED ON:







By: Andriy Bezuglov

A cuticle pen is a manicure that is used to soften and moisturize the cuticle and the skin just around the fingernails.

By: Photographee.eu

Similar to a cuticle pen, soaking the fingers can help soften and moisturize the skin around the fingernails.

By: Deyan Georgiev

A cuticle pen can be particularly helpful for someone who washes and dries their hands on a regular basis.