A dry cut is a type of haircut done on dry hair. This method is preferred by some stylists for certain types of hair or to easily achieve certain styles. Although most hair salons specialize in dry cuts, those that cater to curly-haired customers may be more likely to provide this hair cutting service.
Often, a typical haircut begins with a shampoo and conditioning treatment. The stylist may dry the hair slightly, or may simply towel it off before beginning cutting. A dry cut is done on completely or mostly dry hair in order to give the stylist a clear picture of what the cut will look like when hair is not wet.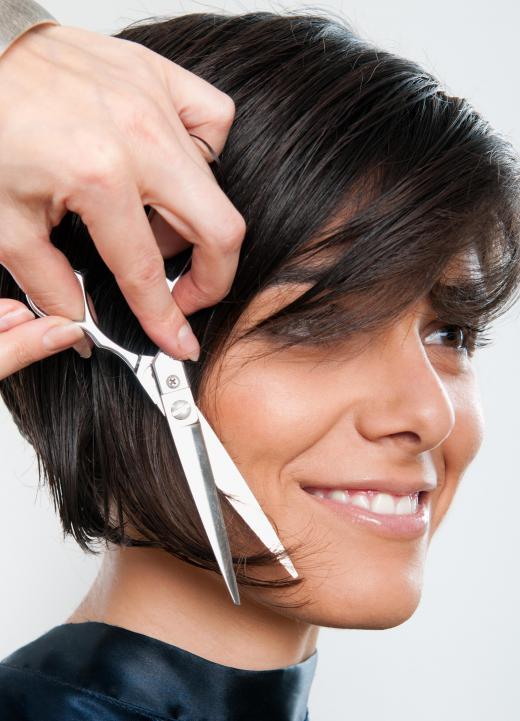 For people with curly or wavy hair, a dry cut may be a preferable method. When hair is saturated with water, curls and waves often change shape, stretching out due to the additional weight of the water. With a dry cut, the stylist can easily see the shape and pattern of the curls, as well as know the length of hair when it is dry and curly.
In addition to making it easier for the stylist to observe the natural patterns of the hair, a dry cut may be beneficial to the client as well. Often, when hair is cut wet, stylists will use straightening tools, such as flat irons, to straighten hair before cutting. If the client wears his or her hair curly most of the time, it may be difficult to get an accurate idea of how the cut will look on a regular daily basis. In a dry cut, the stylist is working with the same hair the client deals with every day, so it is easy to pick up great styling tips by watching the cut carefully.
According to some hair and style experts, a dry cut should only be attempted by an experienced professional stylist who performs this type of cut frequently. Smaller hair sections must be cut when hair is dry, so it may be easier for a stylist to lose his or her place in the cut, or miss sections. By going to an experienced hairstylist who is used to doing dry cuts, a client can reduce the chance of a hair nightmare.
To find a salon that performs dry cuts, try looking for those that specialize in curly or unique hairstyling. Be certain to inquire if there is a price difference between a dry cut and a regular cut; some salons may take off a few dollars when asked, if a shampoo treatment is not necessary. On the other hand, since dry cuts are hard on even top-drawer cutting shears and may take extra time to complete due to the need to cut small sections at a time, ask about a price difference before agreeing to the cut.
AS FEATURED ON:
AS FEATURED ON:







By: Rido

A hairstylist cutting dry hair.