A flannel shirt is a garment that was traditionally created by weaving together a combination of worsted yarn and carded wool. Today, most flannel shirts are woven from either cotton and wool or synthetic fiber and wool. Shirts made from imitation fabrics, such as winceyette and flannelette are also often referred to as "flannel shirts." Most flannel shirts feature a plaid or checked pattern, although they also come in solid colors and other patterns such as floral and Navajo prints. In North America, flannel shirts have long been associated with casual wear, outdoor work wear, and sleepwear such as pajamas.
During the late 1980s and early 1990s, a derivative of punk rock known as "grunge" music started a movement that featured plaid flannel shirts prominently in its repertoire. Many of the musicians from the grunge era heralded from Seattle, Washington and other parts of the Pacific Northwest, where plaid flannel was not only practical because of its warmth, but also plentiful because it was often worn in the local logging industry. The flannel shirt thus became a symbol of anti-fashion and the signature style of such alternative and grunge bands as Nirvana, Pearl Jam, Alice in Chains, and Stone Temple Pilots. Flannel shirts were often worn unbuttoned over shirts bearing the name of grunge bands, to further enforce their connection to the music of the time.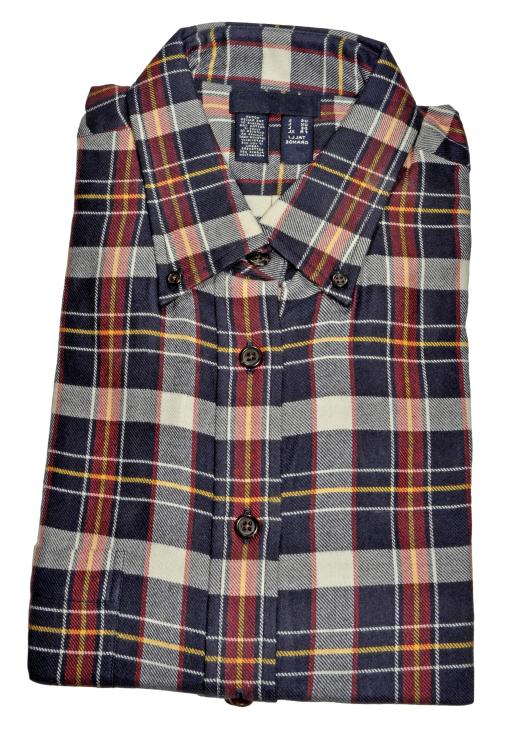 Although it's primarily a casual garment, the flannel shirt can be "dressed up" or "dressed down" depending on its style and the garments or accessories that are worn with it. Flannel shirts that are fitted at the waist with darts tend to have a more tailored look which can also be replicated by adding a belt to cinch the shirt at the waist. During the early 90s, the flannel shirt was most often untucked, untailored, and paired with baggy pants or overalls, as well as combat boots. When the flannel shirt made a comeback during the new millennium alongside other 80s and 90s fashions, it was most often worn with leggings or shorts, and sometimes featured stitched decals or other decorative details. Celebrities that have been spotted wearing the plaid flannel shirt include: Mischa Barton, Lindsay Lohan, Vanessa Hudgens, and Mary Kate Olsen.
AS FEATURED ON:
AS FEATURED ON:







By: philip kinsey

Flannel shirts are primarily a casual garment.

By: onepony

The warmth of flannel shirts makes them popular with loggers.

By: eugenesergeev

Flannel shirts can be dressed up or dressed down.

By: Cheryl Davis

Flannel shirts were traditionally made by weaving together worsted yarn and carded wool.