What is a Hair Hood Dryer?
A hair hood dryer is a machine with a hard plastic dome that comes down and fits over a person's head to dry hair. Hot air is blown out through tiny openings around the inside of the dome to dry a person's hair evenly. This type of hair dryer is most often found in hair salons and beauty shops. There are many sizes and types of hair hood dryers.
The most common form of a hair hood dryer is found in hair salons. It is a machine with a flexible arm extension that has a hard plastic bonnet at the end. Salon hair hood dryers can be large, wide and box shaped, or they might resemble a tall, skinny pole. A customer sits in a chair in front of the dryer, and the hood is lowered down over the head to dry hair evenly and set the customer's new hairstyle. A hair hood dryer also is used to set a perm or wave.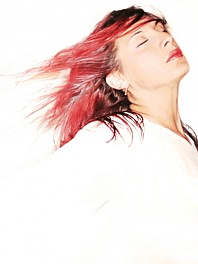 Hair hood dryers can be loud, so they usually are lined up in one area, away from the most common sections of the salon. Customers usually will find magazines nearby to read. Customers might use the time under the dryer to talk to each other while their hair sets. It also can be a place to relax and unwind.
There also are table-top hair hood dryer models, which are portable and most commonly used in the home. These hood dryers sit on top of a table or counter, just as their name implies. Using a hair hood dryer allows a person the use of both hands and allows some head movement while the hair is drying. This can be helpful for those who find difficulty with handheld hair blow dryers. The table-top dryers are less expensive than the salon models but more expensive than handheld dryers.
A hair hood dryer works similarly to a hand-held hair dryer, but it is more efficient and dries hair more evenly. A fan brings air into the machine and pushes it past a hot metal coil to heat it. Then, the heated air is blown out of the small openings in the plastic hood to dry a person's hair. There is an internal thermostat that will regulate the heat so the motor will not burn out. The thermostat can be adjusted by a hair stylist to keep the air from becoming too hot and burning a customer's hair or scalp.
AS FEATURED ON:
AS FEATURED ON:







Woman in breeze