Any woman with damaged or lackluster hair can add natural shine to her frizzy locks with a treatment known as the hair manicure. This professional service offered at certain salons and beauty parlors involves using a colored cream to add a slight tint of color and a shiny gloss to the hair. The treatment is similar to deep conditioning procedures and also comparable to the cellophane hair treatment.
Women can choose between a colored hair manicure cream and a clear cream meant to add shine but no color. A hair manicure is not the same as hair dye. While it can touch up dull color or enhance natural hair color, it provides only a slight tint and will not show any drastic changes in the color itself. Most women seek the treatment for the healthy shine it gives them, not for the color. Typically, someone receiving a hair manicure will choose either clear or a color that matches her current hair.
After choosing the right color, the stylist mixes together the hair manicure cream in a bowl. Using a soft brush, she applies it to sections of the hair until the entire head is covered. Next she carefully wraps the hair and places the person under a dryer to let the color set. The entire process takes from 30 to 45 minutes, the same time it takes to do a traditional hair coloring process. After the correct amount of time has elapsed, the stylist checks that the color has properly set in and rinses the cream out.
Major advantages of receiving a hair manicure include livening up dull hair and repairing hair with mild damage, such as frazzled or dry hair from overuse of heated hair products or hair dye. Unlike the chemicals found in hair dye, the cream used for a hair manicure does not cause damage or dryness. While it can help treat unhealthy hair, it can only do so much and works best on those with minimal damage. A stylist may suggest an additional treatment first to help repair the hair before using the manicure cream to add shine.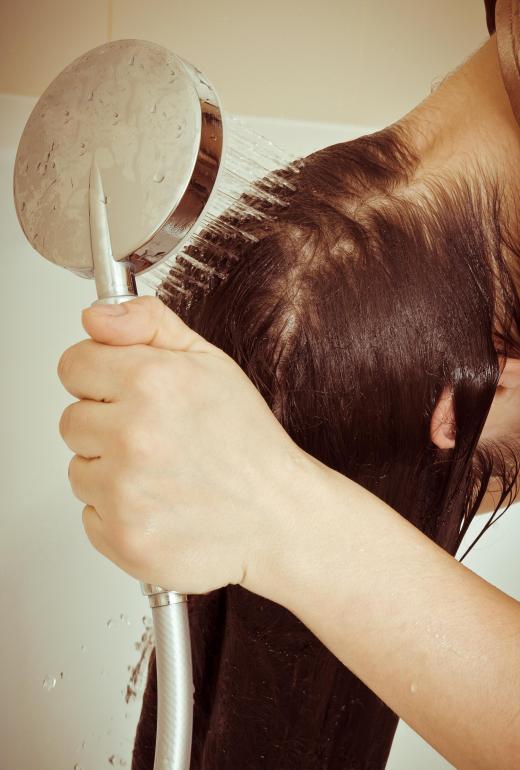 Pricing for the procedure can be expensive depending on the salon and the stylist. It usually costs about the same as a professional coloring job and for those with extremely damaged hair it may be ineffective and a waste of money. The cream used on the hair is available to buy for use at home, but the process is meant for a professional and it is discouraged for those without professional experience to try the procedure on their own.
What Is the Difference Between Hair Dye and Hair Manicure?
Despite popular belief, hair dye and hair manicure products have different characteristics. Hair dye is better for long-lasting color but is not as healthy for the hair. It penetrates the follicle to get the color you desire and doesn't fade easily, even if you wash your hair daily. Typically, hair dye doesn't begin to fade until at least two months after you apply it. It can also lead to breakage or dry hair, especially if you use bleach first.
On the flip side, hair manicure products coat the surface of the hair to give it color instead of penetrating the follicle. Because it doesn't penetrate your hair, it causes very little damage. It also doesn't cause scalp irritation, making it the preferred product for people who have sensitive skin. Hair manicure color lasts for about a month as the color fades a bit every time you wash your hair. It is also harder to get the exact color that you imagine, which means you'll need to decide whether color or healthier hair is more important to you.
How To Use Hair Manicure at Home
Applying a hair manicure at home works much the same as applying traditional hair dye. First, shampoo and condition your hair as normal. Towel dry it until it is ready for the hair treatment. Put on gloves and use a tint brush to brush the hair manicure onto the spots where you want the color. Start about one-half inch from the scalp to prevent any irritation and to avoid creating color on the skin.
Once you finish applying the manicure where you'd like the color to be, use a blow dryer or over-the-head dryer to heat the color for 10-15 minutes. Next, use the cool setting on the dryer or use a cool towel to cool the color for an additional 5-10 minutes. Finally, rinse the hair manicure out and shampoo the hair as usual.
For the best results, there are some tips to keep in mind. If you'd like to avoid getting the color on your skin, leave a thin trail of Vaseline around your hairline and on the ears. In addition, keep in mind that the color will only leave a tint if your hair is dark. For bright colors, you'll need to bleach your hair first, which can lead to damage. If you've never bleached your hair before, it's a good idea to seek a consultation with a professional to avoid serious mistakes.
How Long Does Hair Manicure Last?
Hair manicure tints last for about one month and will fade out a little each time you wash your hair. This means that if you wash it every time you shower, it will likely not last a full month. On the other hand, if you only wash your hair once per week, it may last longer than one month.
How Often Do You Do Hair Manicure?
The amount of time you want in between applying hair manicure tint depends on how vibrant you want your hair to be as well as how often you want to change the color you're using. If you want to stick with the same color for a long time, you can add a new hair manicure about once per month.
If you'd like to prolong how long it stays vibrant, try mixing it into some conditioner and using it during every shower. If you want to use new colors, you'll need to wait for the first one to fade out. This means that you should add new color every 6-8 weeks, which gives your hair time to release all of the previous coloring that you used.
AS FEATURED ON:
AS FEATURED ON:







By: edwardderule

A hair manicure may be performed at a beauty parlor to repair dry, frizzy hair.

By: puhhha

Women often get hair manicures for straighter, shinier hair.

By: Roman Gorielov

Hair manicure creams must be completely rinsed out of hair.

By: Laurent Hamels

Some hair manicures are touted as helping enliven and brighten dull or damaged hair.

By: ysbrandcosijn

A hair manicure can help define a person's natural curls.