What Should I Consider When Buying a Manicure Set?
A manicure set is a great way to save money. Buying doing your nails yourself you save the time and expense that you would normally spend when getting your nails done. To keep your fingernails looking fresh, a weekly trip to the nail salon is necessary. For pedicures, a monthly trip is the minimum. A manicure set allows you to take professional quality care of your nails.
When buying a nail set, look at the various tools that the kit contains. Most manicure kits will contain nail clippers, a small set of scissors, a tool to push the cuticles back and a metal file. There may be other tools in the set as well.
The manicure set is often contained in a wallet, pouch or box. Each tool typically has a slot or elastic strap to hold it in place. This allows you to keep the entire manicure kit stored together.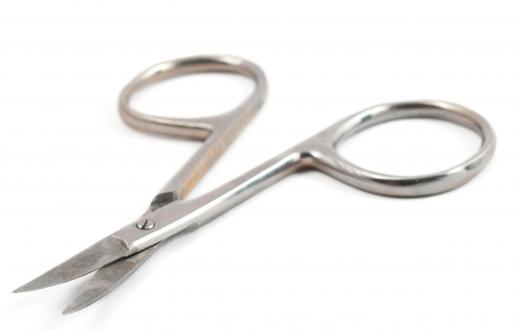 When choosing a manicure set, it is important to inspect the quality of the tools. Sometimes, sets that are packaged as gift sets are not high quality. In fact, sometimes the implements can be such a low quality that they break the first time that they are used. No matter how cute the packaging, if the tools are flimsy or poorly constructed, the manicure kit is worthless.
Another consideration that you should take when choosing a manicure set is how it is packaged. If storage is at a premium in your home or you want to carry the set with you, a compact manicure kit is important. If you enjoy the spa experience, and routinely spread out all of your tools and spend the evening doing your nails, you may appreciate a manicure set that can be left out in your bathroom with all of the tools on display for easy access.
If you plan to leave the manicure set where it is visible in your home, an attractive design is important. Manicure sets are available in baskets, clear Lucite containers and soft sided pouches. A manicure set that contains well made tools is the most important part of the selection process. An attractive container is the perfect complement.
AS FEATURED ON:
AS FEATURED ON:







By: ksena32@ukrpost.ua

Nail scissors from a manicure set.

By: ibphoto

Nail clippers.

By: Maksim Kostenko

A metal cuticle pusher.

By: Valua Vitaly

A wooden or orange stick may be used to gently push back cuticles.

By: Sandra Gligorijevic

When choosing a manicure set, be sure to inspect the quality and sturdiness of the tools.

By: terex

A manicure kit will often feature a stainless steel nail file for shaping the nails.