A lipstick tube is a cylindrical-shaped device that usually is made of either metal or plastic. The base of the tube is typically twisted by hand to push the lipstick up and out so that it can be applied to the lips. After applying, turning the base of the tube in the opposite direction usually pulls the lipstick back inside. There typically is a cap that is placed on top of the tube to protect the open end of the lipstick from damage. Lipstick tubes generally are small enough to fit inside a purse or makeup bag, which can make it easy for people to take with them to reapply lipstick as needed.
Ingredients used to make lipstick generally consist of oils, waxes, pigments, and various additives. While castor oil is the most common type of oil used in the manufacturing process, some products may contain olive or mineral oil instead. Waxes in lipstick can include beeswax, carnauba wax, or candelilla wax. The pigments are dyes that give the lipstick its individual color. All of these ingredients are combined together, poured into a mold to harden, and then inserted into a lipstick tube.
There is generally no shortage of options available when it comes to purchasing lipstick. Some of the different types include matte, creme, long-wearing, gloss, and shimmery varieties. Regardless of the type or brand, most lipstick contains varying amounts of the same basic ingredients. Additives such as mica, fish scales, and silica may be used in the shimmery lipsticks for shine, and silicone oil is commonly used in the long-wearing varieties to keep the color in place.
Although many people use different methods to apply their lipstick, the most common method is to start from the center of the mouth and go outward. Lip liner can be drawn around the outside of the lips, thereby making it easier to stay inside the lines. It may be applied straight from the lipstick tube or with a brush. The use of moisturizer on the lips immediately before application may help it go on smoothly. It is also common for some people to use clear gloss on top of lipstick to give lips a shinier appearance.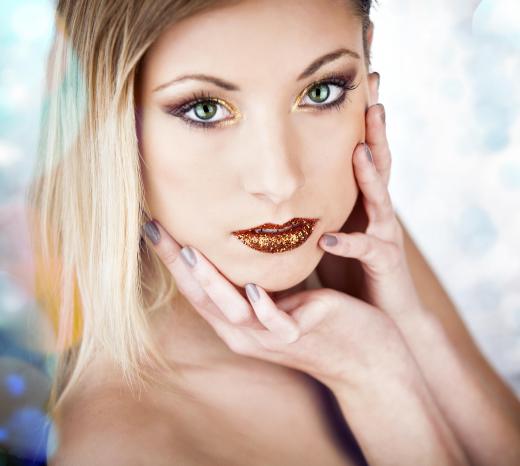 The idea of using color to paint the lips goes back at least as far as the ancient Egyptians. They were known for using henna and various plant dyes to color their lips. British Parliament made lipstick use illegal in 1770 and allegedly threatened women with charges of witchcraft it they chose to wear it. In the late 1800s, lipstick once again became popular. It was originally sold in small pots before the lipstick tube was introduced in about 1915.
AS FEATURED ON:
AS FEATURED ON:







By: bst2012

A woman applying lipstick.

By: Gennadiy Poznyakov

Lipstick tubes may be stored in a makeup bag.

By: Nicola_Del_Mutolo

Most lipsticks are concealed inside a tubular applicator.

By: vvoe

Additives such as mica, fish scales, and silica may be used in the shimmery lipsticks for shine.