What is a Men's Manicure?
A men's manicure is the process of trimming, smoothing, possibly polishing, and generally grooming the fingernails of a man. While there may be a certain stereotype regarding receiving a manicure as a predominantly feminine act, many men take pleasure in the attention and personal care enjoyed while receiving a manicure or performing one on himself. Similar in many ways to a female manicure, the process is primarily concerned with ensuring strong, healthy nails that are devoid of breaks or sharp edges. The application of any kind of polish or coating is optional, and for some may not be desired, but can be a part of the process.
There are kits specially designed to provide the necessary tools needed to perform a men's manicure, as well as salons that specialize in grooming men's fingernails. The sense of being pampered and having one's body treated well is not unique to women, and more and more men have found the process of receiving a manicure to be very relaxing. Typically seen as a sign of wealth or privilege, manicures for both men and women can improve fingernail health and strength.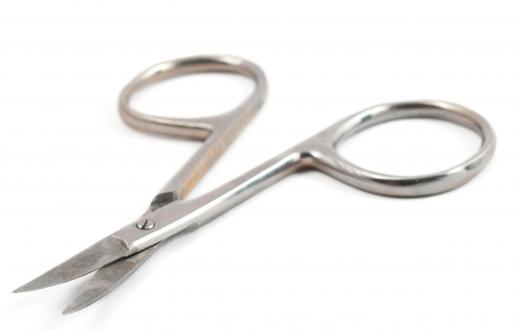 A men's manicure usually begins with the fingernails being neatly trimmed with a pair of manicure scissors and filed smooth. While many women and men prefer the use of an emery board for nail filing, some men have shown a preference for fine metal files being used. This may be due to men's nails being typically shorter than a woman's, and the use of an emery board may not allow the fine precision needed when so close to the skin of the fingers.
Next, a men's manicure commonly includes an application of cuticle serum or lotion around each fingernail. The man's nails will then be soaked in a mixture of warm water and a mild detergent used to ensure the area around the nails is clean and free of particles from filing. The nails are scrubbed with a soft, flat nail brush, and then smoothed against a pumice stone. Cuticles are pushed back if needed, and the area under each nail is cleaned before the nails are buffed.
Hand cream or lotion can also be applied to ensure the skin is healthy and soft. Some men then enjoy having a light layer of enamel applied to the nails to ensure strength and a healthy sheen. A men's manicure can also include a men's French manicure, in which the nails are painted with white tips and covered with a clear coating, just like a women's French manicure.
AS FEATURED ON:
AS FEATURED ON:







By: ksena32@ukrpost.ua

Nail scissors for a manicure.

By: Maksim Kostenko

Metal orange sticks are used to push the cuticles back.

By: Konstantin Tavrov

Cuticle lotion is used during a manicure.

By: terex

Men often prefer using metal nail files.