What is a Mini Neck Lift?
A mini neck lift is a minimally invasive form of cosmetic surgery. Also known as submentoplasty, the process targets wrinkles, sagging skin, banding and fat deposits that occur around the neckline. Those who undergo the procedure can improve the contours of the neckline and take years off of the appearance of the face.
Mini neck lifts are becoming a popular option for individuals who want to rejuvenate their appearance but are not seeking drastic changes. Appropriate candidates for neck lift surgery are middle-aged individuals near their ideal body weight who are looking to treat moderate amounts of sagging and drooping along the neck line. For those seeking dramatic results, a neck and face lift can be combined with nose reshaping, brow lifts and other procedures that focus on the entire face.
For most individuals, a mini neck lift will be done on an outpatient basis. Depending on the preference of the surgeon, local or general anesthesia may be used. Under local anesthesia, patients will remain awake but pain free during the procedure. Those who receive general anesthesia will sleep through the mini neck lift. As general anesthesia can cause serious complications, surgeons are more likely to use it for neck lifts performed in a hospital setting. This option will generally be used for those with preexisting medical conditions and blood clotting problems.
After administering anesthesia, a surgeon will begin the outpatient neck lift by making a small incision under the chin. Fatty tissue in the neck will be trimmed off or removed by liposuction. Muscle tightening can be done to address muscle laxity, and the removal of excess skin helps to improve the profile of the neck. Following the mini neck lift, sutures can be used to close up the wound. Once the wound heals, patients will be left with a barely visible scar that fits within the natural creases of the neck. The entire process typically takes around two hours to complete.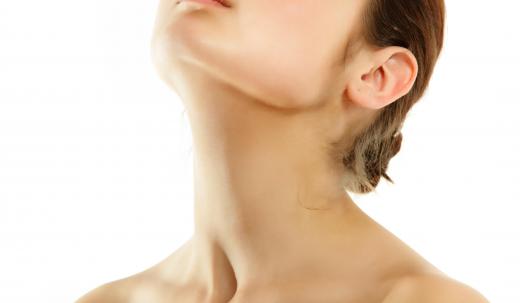 When at home, neck lift care beings. This means a patient will need to keep his or her head elevated for several days. To support the neck, the patient must control the amount of swelling experienced and speed up the healing process by wearing compression garments for a week. Work and other normal activities can typically be resumed within two weeks. Patients are generally cautioned to wait at least a month before resuming strenuous activities.
The results of the mini neck lift are not likely to be visible immediately. Swelling and bruising usually persists for several weeks and leaves the face distorted. As the skin heals and tightens, patients will gradually notice a smoother neckline and a more refreshed and youthful appearance. Depending on the elasticity of the skin and the skill of the surgeon, results typically last between five to seven years.
AS FEATURED ON:
AS FEATURED ON:







By: Andres Rodriguez

A mini neck lift may be performed to treat moderate sagging and drooping along the neck line.

By: Maksim Å meljov

It is important for an individual to keep his or her head elevated for several days following a mini neck lift.

By: Khorzhevska

A so-called mini neck lift is less invasive than the traditional neck lift.

By: uwimages

A mini neck lift may require receiving general anesthesia.