A razor cut is, essentially, exactly what it sounds like: a type of hairstyle where a very sharp razor is used to cut hair rather than standard scissors. Stylists may use a straight razor, a razor comb, or another specialty tool to achieve this cut. Typically, the stylist separates the client's hair into segments and works with one at a time. The stylist gathers a section of hair, holds it with slight tension, and cuts in a downward motion along the length of the hair follicle with the razor at an angle. Then, the stylist will continue to razor cut each segment of gathered hair until the desired look is achieved.
The razor cut allows the stylist to create a look that may not be easy to achieve with regular scissors. Ends of the client's hair will be angled and more textured, which allows for more movement in straight hair. With a razor cut, the stylist has greater control and precision, and can more easily shape and thin the hair, if necessary. Razor-cutting is often used to create short, choppy hairstyles, but may also be used to achieve a softer, natural look. Some stylists also choose to use a razor while trimming bangs in order to create a wispy, gentle slant.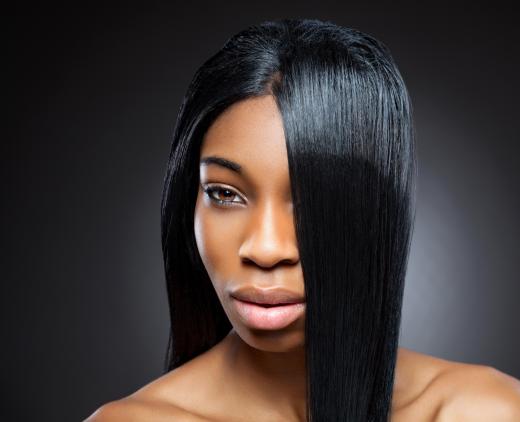 When considering a razor haircut, it can be important to take into account the length and texture of the hair. Razor-cutting is not recommended for curly or wavy hair, as it may cause the hair to appear frizzy. Generally, razor cuts work well with short, thick, straight hair, often adding a more interesting texture to a standard blunt bob hairstyle. A razor cut can also help to lighten naturally heavy hair. Because this style can be effective at thinning out hair, those with already fine hair may want to avoid it.
The razor cut seemingly first became popular in Asian countries. In fact, a traditional razor-cutting tool called the nihindo was developed in Japan in order to provide greater precision for these styles. The popularity of the style has increasingly spread to other countries, including the United States.
Many celebrities and popular culture personalities can be seen sporting razor cut hairstyles. Additionally, the style is not exclusively for females; many men are choosing to wear razor cuts as the technique and style becomes more widespread. A razor cut could be a flattering option for those individuals who are looking for a new style that adds texture, movement, and shape.
AS FEATURED ON:
AS FEATURED ON:







By: and.one

The razor cut allows the stylist to create a look that may not be easy to achieve with regular scissors.

By: indiraswork

Razor-cut styles may not be good options for people who have curly hair.