What is a Salt Body Scrub?
A salt body scrub is a beauty product made by combining a course salt with oil. Some of the most commonly used salts found in salt body scrubs are sea salt and Epsom salts. These varieties of salt are purified enough to be gentle on the skin; regular table salt should never be used, as it is too harsh. If the skin is too sensitive for any salts, sugar can be substituted to achieve a similar effect. Light-textured oils such as jojoba, almond, and grapeseed work best to mix with the salts.
There are several benefits to using a salt body scrub. When the scrub is rubbed over the skin, it removes the surface layer of dead skin cells. After it is rinsed off, the newer, younger skin cells are left on the surface, giving the skin a smooth feel and youthful appearance. In addition to the external physical benefits, the salt helps open pores and draw out toxins. The act of massaging the body salt scrub into the skin increases circulation, relaxes muscles, and helps alleviate tension.
Salt body scrubs can be used at home or can be administered by a therapist at a spa. When listed on spa menus, the treatment can also be called a salt glow or body polish. The salt body scrub treatment at a spa will sometimes be followed with a Vichy shower. A Vichy shower contains five to seven shower heads in a row that are turned on above the treatment table to rinse the scrub off without the client having to move or get up from the table. The treatment is then usually finished off with a lotion massage to seal the moisture into the skin.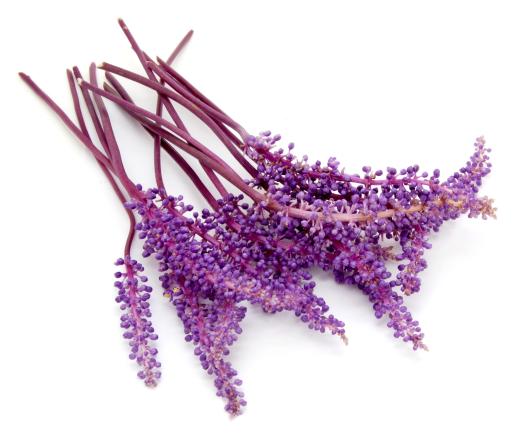 If applying a salt body scrub as a home treatment, the skin should be moistened before the scrub is applied. The body scrub should then be rubbed in for at least 1 minute to get a complete exfoliation. Gentle pressure should be used so as not to irritate the skin. Salt body scrubs work exceptionally well on tougher body parts, like elbows, knees, and feet, but should not be used on more delicate areas, like the face. The scrub can be used once a week to keep skin smooth and soft.
While they can be purchased, homemade salt scrubs are inexpensive and easy to make. The salt and oil should be combined in a 3:1 ratio. Once mixed, the salt should feel moist, but not excessively oily. If necessary, the amount of oil or salt can be adjusted to achieve the desired consistency. A scented scrub can be created by adding a few drops of essential oils, such as lavender, peppermint, or rose. Glass jars work well for storing scrubs, but any container can be used as long as it has an airtight lid.
AS FEATURED ON:
AS FEATURED ON:







By: Elena Moiseeva

A salt body scrub.

By: Kimberly Reinick

Lavender may be added to a salt scrub.

By: Lucie Říhová

Coarse salt is combined with oil to make a salt body scrub.

By: gofasadi

Many spas offer salt-based scrubs and other exfoliating body treatments.

By: smuay

Salt body scrubs are usually finished with a lotion massage to seal the moisture into the skin.