There are many varieties of shimmer stick cosmetics. These sheer sticks can come in the form of lip product, eye shadow, bronzer, or blush. Fragrance rubs also come in the form of shimmer sticks, as do unscented body lotions and creams. Such sticks come in the shape of a tube and are generally approximately finger-length. Usable every day or for special occasions, a shimmer stick is a beauty trend that has been around for decades and isn't going anywhere any time soon.
The shine-filled lipstick-type tubes are typically filled with a substance similar to lip balm, even if it's not meant to be applied to the lips. Occasionally, though, the ingredients compose a thick liquid or paste-like material rather than a balm. Like all cosmetic products, however, consumers should be sure to patch test an area of the skin before applying it. A woman who has experienced past allergic reactions to beeswax or petroleum jelly, for example, may want to carefully read the ingredients list and avoid using products with those ingredients.
Some shimmer sticks are primarily clear in color with speckles of light-enhancing particles such as glitter. When glitter reflects light, it shines. Other times, the lip shimmer stick is red, pink, or purple in base color, with creamy white, shiny swirls. Regardless of the color inside the tube, though, it always looks a bit different when blended with your skin. If you put light pink shimmer on dark skin, it will naturally come out a bit darker than it would on pale skin, for example.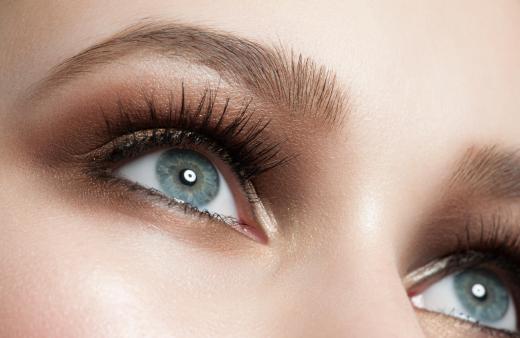 Attention is drawn to whichever body part the shimmer is adhered to. So, if someone wants to play up their small lips or show off her large lips, wearing a shimmer stick on the lips is a way to enhance that body part. Small eyes? Knowing where to brush the shimmer stick on the eyelid can make small eyes look much larger.
Shimmer sticks are also made in the form of eyeshadow or eyeliner, and can come in any color from warm to cool and everything in between. When applying a lightly colored shimmer stick around the lids, the product makes the eyes appear to be bigger. Charcoal and black shimmer sticks can give someone a smoky eye with just a hint of sheen. Pastel-hued shimmer products will produce more of a dewy, springtime look.
While teens were the first major market for shimmer sticks, women of all ages use them. Shimmer stick bronzer can make the face, shoulders, or chest look healthily bronze without frying under the sun. It's best to apply shimmer stick bronzer in only a few key areas. The purpose of it is to produce a natural sheen in certain areas rather than give the whole body a bath in glitter. A small dab of the stick across the cheek bones and shoulders should be enough.
AS FEATURED ON:
AS FEATURED ON:







By: alex83ch

Some shimmer sticks are suitable for use on the lips.

By: Mikhail Malyugin

Most shimmer sticks are designed to impart a subtle, pearlescent sheen.

By: Minerva Studio

Using eye makeup that is older than three months old may increase the chances of contracting an eye infection.

By: Kurhan

Shimmer stick bronzer can make the face, shoulders, or chest look healthily bronze without exposure to the sun.