A spray lotion is a type of lotion that is sold in a spray bottle, rather than the more traditional bottle with hand pump or a squeeze bottle. Spray lotion is typically made for the body; it is rare to see lotion in a spray form intended to be used on the face. There are some benefits to using a lotion in a spray bottle as opposed to regular lotion, but there are generally some compromises to be made as well.
In general, spray lotion is much lighter than most other types of body lotion. It will moisturize the skin, but it is not usually possible to get rich, emollient body lotion into a spray form. For this reason, this type of lotion is often a better choice for the summer months, when skin needs moisturization, but is not especially dry. Some types of spray lotion come out of the bottle like a mist, while others are designed to appear more like a mousse for the hair.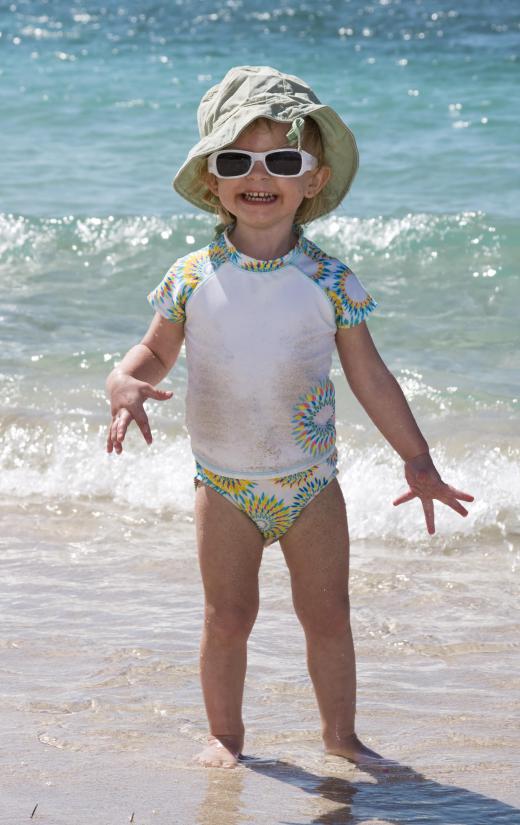 There are two very common types of spray lotion. These are spray lotion containing sunscreen, as well as lotion that contains a cooling ingredient such as aloe or menthol. Spray sunscreen is very popular for kids, because parents can easily see where they have already applied sunscreen, or where more lotion needs to be sprayed. Some spray sunscreens even spray on a different color, then dry to clear; this helps to ensure that all of the exposed skin is protected from the sun. Spray sunscreen generally offers just as much protection as regular sunscreen, just check the SPF rating on the label to be sure.
Cooling lotion may be sprayed on after a day in the sun, if a sunburn accidentally occurred. In addition, it can be nice for warm days in the summer; one can apply moisturizer to the skin and cool off at the same time. Keep in mind that the best time to apply any moisturizer is after a bath or shower when the skin is still slightly damp. The moisturizer can then soak into the skin better, and help the skin to retain its moisture from the water.
Spray lotion might also come in fragranced versions to match certain perfumes. This can be a great way to refresh a faded fragrance during the day, without needing to apply additional perfume. This type of lotion often comes in a set when purchasing a designer perfume or other designer fragrances.
AS FEATURED ON:
AS FEATURED ON:







By: Karen Roach

Spray sunscreen is a popular product for parents with young children.

By: Karramba Production

People with dry skin often spray on hydrating lotions following a bath or shower.

By: Syda Productions

Spray sunscreens can ensure that all exposed skin is protected from the skin.

By: Ferrante Pietro

Suncreen spray lotions are rated based upon the level of sun protection factor (SPF) they provide.

By: lulu

Spray sunscreen may protect the skin against harmful UVA and UVB rays and lower the risk of skin cancer.

By: Glamy

Cooling lotion may be applied the following day if someone suffers a sunburn.