What is a Surface Highlight?
A surface highlight is a hair coloring technique where highlights are added to the hair only on the outermost layer. Highlights are pieces of hair that are lightened, typically a few shades lighter than normal hair color, to add dimension and depth to the hair. Highlights occur naturally when spending a lot of time in the sun, but they will only appear on the outer layer of hair; a surface highlight, then, attempts to duplicate this look, and make hair look naturally sun-kissed.
Highlighted hair often looks healthy and shiny, and appears to sparkle in the sun. Highlights are also great at covering a few grays, though a surface highlight may not be able to because it is only on the surface of the hair. There are a few ways to add highlights to the hair.
The first is to get a surface highlight from a hairstylist at a salon. Highlights may range in price, but they usually do not need to be maintained as frequently as a full hair color because they blend more easily into the natural hair. Depending on the type and color of highlights, however, parts of the hair may need to be bleached first, which is a lengthier process.
Another option is to highlight the hair at home. Many stores sell home highlighting kits that allow the user to paint highlights on with a hair color brush or comb. For a surface highlight look, this method can work quite well, because one can visualize exactly where the highlights should go to look the best. Experts generally recommend starting with a few highlights framing the face, to make the face appear brighter and more awake.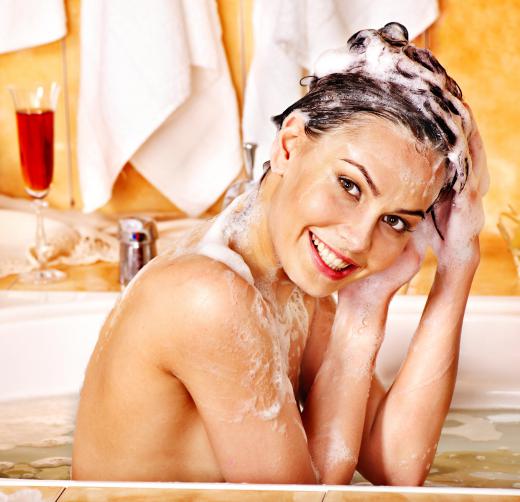 Remember, when applying highlights at home, always wear plastic gloves and a towel around the shoulders to protect clothing, and carefully follow the directions on the box. For highlights on the surface of the hair, it is best to avoid highlight kits which use the cap-and-hook method instead of painting the highlights on the hair, as this method is designed to spread the dye throughout different layers of the hair.
While applying the hair dye, visualize how the highlights will look based on where the sun would naturally lighten the hair; this will help one to achieve a natural, summery look. Maintain the hair with gentle shampoos and conditioners that are designed for color-treated hair. Depending on the type of dye used, such as temporary, semi-permanent, or permanent, a surface highlight could last for a few months.
AS FEATURED ON:
AS FEATURED ON:







By: Konstantin Yuganov

Surface highlights add depth and dimension to hair.

By: Max Tactic

Maintain the hair with gentle shampoos and conditioners that are designed for color-treated hair.

By: Gennadiy Poznyakov

Some hair-care products that promise highlights are temporary, and last only until the next shampoo.