What Is Ammonium Thioglycolate?
Ammonium thioglycolate is a chemical used to straighten hair. This chemical is much less damaging to the scalp and hair than others and is also much less smelly. Its function is to make follicles more permeable and break up the disulfide bonds that make curls. This product is used in the first step of thermal ionic straightening systems.
Of the other types of chemicals that can be used as a straightener, ammonium thioglycolate is milder than most, which results in less damage to the hair shaft. The thiol group on the chemical, -SH, makes it a reducing agent. The chemical will give an electron to another compound that breaks, or reduces, a chemical bond.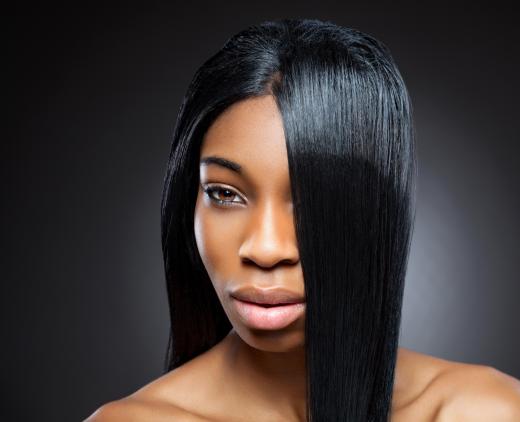 Within the hair strand there are many disulfide bonds. Very curly strands will have a lot of disulfide bonds, while straight strands have much less. The ammonium in the compound will cause strands to swell. Thioglycolate can then enter the strand and reduce or break up the disulfide bonds in the interior of the strand.
Removing ammonium thioglycolate requires thorough washing. The hair is styled, straightened, and then a hydrogen peroxide solution is applied. Hydrogen peroxide creates new bonds in the new hair style. Commonly, less bonds are formed, resulting in less curly strands. If this procedure is performed too many times, hair may become so weak that it breaks.
There are several advantages to using this chemical instead of guanidine hydroxide or sodium hydroxide. The pH of ammonium thioglycolate is lower, with a pH level at about 9 to 9.5, whereas sodium hydroxide can have a pH as high as 14. The less alkaline chemical will not damage the scalp or hair. Conditioning products are typically needed before hydroxide products are used, while they are not needed for thioglycolate products.
Additionally, this product does not have an intense smell when applied to hair. Disulfide chemicals, on the other hand, are very smelly and other relaxing chemicals produce a very stinky odor. The reduced sulfur compounds by thioglycolate changes the sulfur to a nonvolatile or non smelly, form of the chemical.
Bio ionic or thermal ionic systems also use this product to reduce the internal stress and structure of hair strands. Hair is reconstructed using heat, normally with a hot flat iron. Strands are then locked into the new, straight style. Unlike other straighteners, this system results in pin straight hair that can be very shiny and soft.
AS FEATURED ON:
AS FEATURED ON:







By: and.one

Ammonium thioglycolate is a chemical used to straighten hair.

By: Laurent Hamels

An ammonium thioglycolate straightener is less damaging to the scalp and hair than other chemical products.

By: indiraswork

Hair that is very curly has a great number of disulfide bonds.

By: Ariwasabi

Removing ammonium thioglycolate requires thorough washing.