An eyelash comb is an implement generally used to separate eyelashes after applying mascara. Eyelash combs help to keep the eyelashes from clumping together and can give them a fuller, more natural appearance. Some women have been known to use alternative tools for this purpose; straight pins, disposable mascara wands, and hair combs can produce similar results. Eyelash combs are a crucial part of cosmetic eyelash care.
Separating the eyelashes after applying mascara can help the lashes appear longer and thicker. Eyelashes generally look more natural when they are separated and free of clumps. Long, thick, natural-seeming lashes can make the eyes look wider and larger.
Eyelash combs are generally considered the safest way to separate eyelashes and remove mascara clumps during make up application. Many women may have once used straight pins to separate their eyelashes and remove clumps of mascara. Using straight pins to separate eyelashes can result in injury to the eye.
The fine teeth of some hair combs can be used to separate eyelashes and pull out clumps of mascara for a more natural appearance. A disposable mascara wand, often used in beauty salons and by makeup artists, can have an effect similar to an eyelash comb. The clean mascara wand can be combed through the eyelashes just after mascara has been applied, to pull out clumps and separate the lashes.
Eyelash combs may have plated metal teeth or plastic teeth. An eyelash comb with metal teeth is generally considered to be of superior quality. Combs with plastic teeth generally break more easily, and are more difficult to clean. Metal eyelash combs separate are considered to be more effective at separating lashes and removing clumps.
Before using an eyelash comb, many women prefer to curl their lashes with an eyelash curler. Many makeup professionals believe that mascara should be applied in thin layers. Wiggling the mascara wand during application may help to keep eyelashes from sticking together and reduce the need for eyelash separation. Removing excess mascara from the wand with a piece of tissue paper can reduce clumps and make the eyelash comb more effective.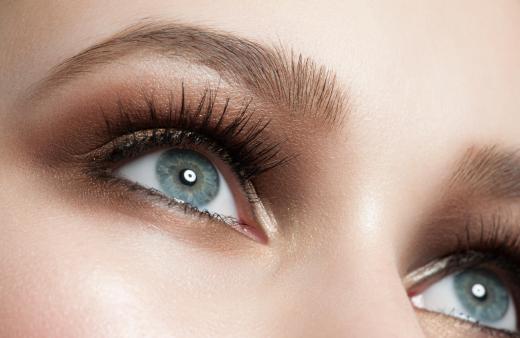 The eyelash comb is intended to be used after mascara is applied and before it dries. Some eyelash combs are curved to fit the contour of the eye. These may be easier to use. Most eyelash comb users believe that the best way to use the comb is to pull it through the lashes from the roots to the tips. The lash comb can usually be cleaned with rubbing alcohol to remove mascara residue.
AS FEATURED ON:
AS FEATURED ON:







By: Péter Mács

An eyelash comb can separate lashes to keep them from sticking to one another.

By: bedya

The eyelash comb is intended to be used after mascara is applied and before it dries.

By: Mikhail Malyugin

Mascara can be applied in thin layers to help lengthen eyelashes.

By: MartiniDry

Many women prefer to curl their lashes with an eyelash curler before using an eyelash comb.