Bronzing powder is an element of sunless tanning. Sunless tanning, also known as fake tanning or self tanning, occurs when someone decides to create a faux tan via cosmetic products. Rather than risking the UV rays that come with tanning beds, a woman can use a product like bronzing powder to create a look similar to that of a suntan. Like most types of powder, it is made of an abundance of very fine grainy materials. It is brushed onto the face and body.
Bronzing powder is sold in a variety of shades. Though many bronzers can be paired with any skin shade, it's best to use one that's closest to the natural skin tone. People with very pale skin should stay away from the darkest powders, and vice verse.
Often, bronzing products are marketed as shimmer-enhancing cosmetics. When this makeup product is manufactured, it is packed with light-reflecting particles in addition to the brownish-orange powder. These particles produce what is often termed a "healthy glow" or a "sun-kissed bronze."
Many bronzing powders may be brushed all over the body, in particular, over the face and shoulders. Along the jawline, across the bridge of the nose, and on the forehead are popular areas for application. Shimmer bronzing powders, however, should only gently be swept over the cheekbones and eyelids. This produces a highlighting effect. A little sparkle or shimmer goes a long way.
For those looking for a safer way to have tan-looking skin, using bronzing powder can be a good choice. Without risking the harmful effects of tanning booths, consumers can purchase a bronzing powder. Sold online, in drug stores, or at department store makeup counters, bronzing powder can be found in a variety of sections. It's grouped into categories like makeup, sunless tanning products, and sun protection products.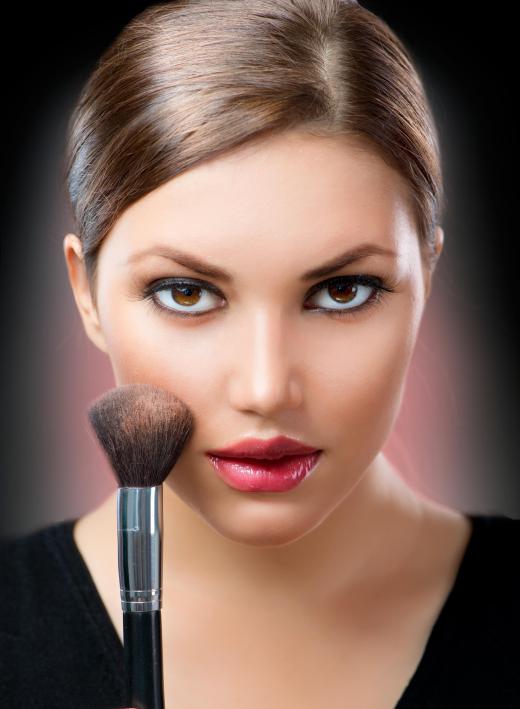 Though it is unusual, some bronzing powders have a slight amount of sun protection factor (SPF) in them. Additionally, some of the powders are made with medicated elements known to help acne-prone, or dry, or oily skin. Bronzing powder with a hint of salicylic acid, for example, is marketed towards women with acne. The beta hydroxy acid essentially causes the outer layer of skin to shed quickly, resulting in less clogged pores and thus, less acne.
The desired effect for bronzing powder is an effortless, natural-looking tan. While a woman may use bronzing powder as a part of her daily routine, many women choose to wear it only in the summer. Because it is meant to produce a "natural" bronze appearance, most women don't wear it in the winter, when their skin is naturally the palest.
AS FEATURED ON:
AS FEATURED ON:







By: .shock

Bronzing powder is much safer than tanning beds.

By: anakondasp

Bronzer is intended to lend skin a healthy glow.

By: Subbotina Anna

Bronzing powder is typically applied with a brush that looks very similar to a blush brush.

By: Natalya Glinskaya

Bronzing powder can be used to create the appearance of having a tan without actually tanning in the sun.

By: Ocskay Bence

Some bronzing powders include ingredients that are meant to help acne-prone skin.

By: micromonkey

Bronzing powder is sold in a variety of shades.

By: Kurhan

Though bronzing powder may be worn year-round, many choose to wear it only in the summer.