What is Chamomile Essential Oil?
Chamomile essential oil is the essence or "life blood" of the chamomile plant, which is considered a medicinal herb. Commercially produced essential oils are very concentrated, potent substances that tend to irritate mucous membranes of the body, such as the eyes, nose and mouth, when applied to them in their undiluted form. These commercially produced oils tend not to be oily if they are of high quality, but homemade chamomile essential oil does tend to be oily because olive or grapeseed oil generally is used to make it. It is, however, also much less concentrated and usually can be applied directly to the skin without causing irritation. This oil, whether produced commercially or made at home, is not used internally.
There are many uses for chamomile essential oil, and almost all of them are cosmetic. It can be added to shampoo and hair conditioner to help keep the hair light, enhance blond hair or naturally add soft highlights to dark hair. Many shampoos and conditioners that claim to be all natural contain the essential oil of this herb in various amounts. The oil also helps to soften and lightly condition dry hair while giving it an aromatic scent.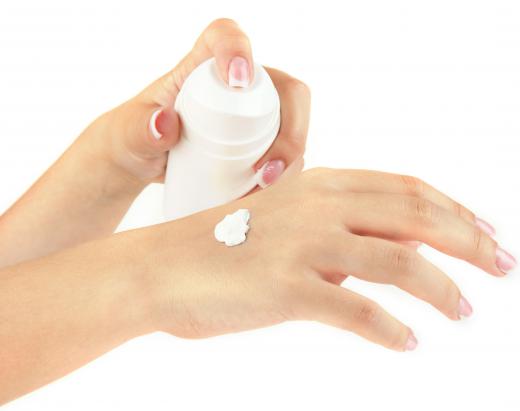 Other personal care products such as beauty or night creams, soaps for washing the face and hand lotions might contain chamomile essential oil if they claim to soften the skin. This herb is also believed to have properties that enhance natural bleaching agents such as lemon juice and often is one of the principal ingredients in all-natural skin lightening products. Although a strong infusion or tea made from chamomile flowers has the advantage of being used as a hair conditioner, lightener and skin softener, the essential oil has the advantage of being convenient. It does not have to be prepared, and commercially produced oils can be stored for very long periods of time; the life of homemade oils can be extended by adding vitamin E oil.
Some of the medicinal properties of the chamomile plant are active in the essential oil form. Externally, the oil can be rubbed directly into the skin in order to help relieve swellings, muscles that are sore and painful joints. Only homemade chamomile essential oil is mild enough to be applied in this way without causing irritation or damage. People with sensitive skin or skin cancer are advised to consult with their doctor or a dermatologist before using a commercially produced essential oil, even if it has been diluted.
AS FEATURED ON:
AS FEATURED ON:







By: Africa Studio

Chamomile essential oil can be found in some hand lotions.

By: Africa Studio

Chamomile is a common source of azulene oil.

By: Lucie Říhová

Added to shampoo or conditioner, chamomile essential oil can help keep hair light.