The term "cognac leather" refers not to a specific type of leather, but rather to a color of leather. The color has been variously described as "brown with a hint of red" and "a warm caramel color." The name is derived from the color similarity between this leather and the alcoholic liquor called cognac, which is sometimes called brandy. This color of leather is popular in furniture, apparel, and accessories.
Cognac is a type of wine — specifically, a variety of brandy. The grapes are grown and the wine bottled in the Cognac region of France. It has a very distinct, warm brown color that is due to the wooden casks in which it is aged. Most cognacs are amber or brown, and may have just a hint of red.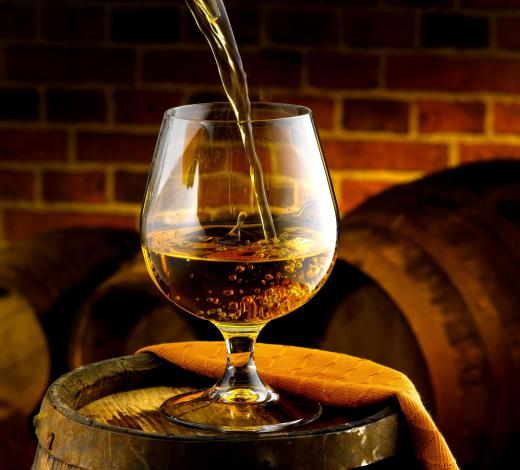 Leather that has been dyed to the distinctive shade of cognac brandy is called cognac leather. While it could just as easily be called "amber" or "medium brown," designers often prefer to use color names that relate to items that involve the senses, such as food, drink, or flowers. This is why a leather in a warm, deep shade of brown is often called chocolate instead of dark brown. The term "cognac" has the added value of being associated with an item that many consider to be high-class or aspirational; using the word "cognac" to refer to the color of the leather is thought to cause the buyer to perceive the product as higher-end or more aspirational, by association.
Like the alcohol from which it is derived, cognac leather can vary greatly in hue. It can be light or deep, and may contain varying degrees of red in the base tone. While it can be used for an entire piece, this particular color is also often used as part of a two-tone scheme or may be used as an accent color on shoes, purses, and other accessories. Cognac is a pseudo-neutral, making it easy to pair with a wide variety of colors.
Leather is a popular material with which to make a variety of items, and cognac is a popular color. Cognac leather is often used for furniture, such as couches, ottomans, headboards and chairs. It can also be used to manufacture coats, boots, pants, and shoes for both men and women. Accessories such as wallets, purses, and belts, as well as business gifts such as portfolios, briefcases, and card cases, are also available in cognac leather.
AS FEATURED ON:
AS FEATURED ON:







By: EcoPim-studio

Leather that has been dyed to the shade of cognac brandy is called cognac leather.

By: Mihalis A.

Cognac leather may be used to make furniture.

By: Andrey Bandurenko

Cognac leather is often used to make boots.