Collagen creams are skin care products that contain collagen, an elastic, fibrous protein found in connective tissue. Alternately, they include ingredients that help the body form the protein by itself. People use different types of these creams to improve the appearance and function of the skin. Despite their popularity, they have not been proven to be effective and might not be safe for all individuals, depending on exactly what they contain.
Reason for Use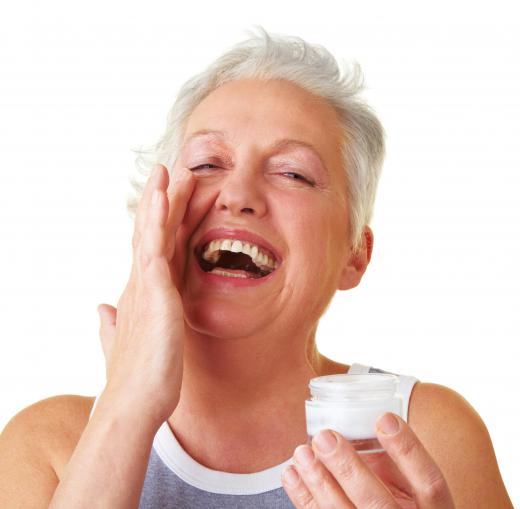 As people age, they lose up to 30% of their collagen, resulting in the development of wrinkles, crow's feet and sagging skin. These products are believed by many to help slow down or prevent this process from occurring. Many people, especially women of 40 years of age and older, use them to maintain their youthful appearance.
Ingredients
In addition to collagen, these creams often include functional keratin, which is a combination of peptide proteins that help the body form collagen on its own. Elastin, a protein that helps tissues retain their shape after stretching, is another common ingredient. These products also often include substances such as water, mineral oil, retinol, hydroxy acids, copper peptides, cetearyl alcohol, glycerin, various extracts, linoleic acid and fragrance.
Types
One type of cream that contains collagen is anti-wrinkle cream, which is said to improve the appearance of both fine and deep lines in the skin. Anti-aging creams address this issue as well, but they are designed primarily to make the skin generally more supple and radiant. Some are made to be used at night and are said to work during the alpha sleep cycle to restore natural smoothness, flexibility and firmness.
Method of Use
The way a person uses one of these products depends on its exact formulation and purpose, but in general, individuals can use it just as they do any other cream. Normally, people apply it once or twice a day, and they use it most often on the face, neck and hands, as these are exposed and visible to others most of the time. Although some have special applicator sponges or brushes, most are simply applied with the fingertips.
Effectiveness
Scientists have proven the importance of collagen and elastin in regard to skin health and appearance. Even so, a major problem with these types of creams is that the molecules for both substances is too large to be absorbed through the skin. Some manufacturers try to get around this and promote sales by breaking the molecules into smaller pieces — this appears as "soluble" or "hydrolized" on the label — but experts point out that removing them from their original source makes them inactive, as well, meaning that they would not be helpful even if their size was not an issue. Many individuals to label these products as little more than snake oil as a result, particularly because they have not proven to be effective in reducing wrinkles or other signs of aging.
Safety
Many collagen creams are promoted as safe to use on a long-term basis, but this depends on the ingredients, and in many regions, they are not regulated. In addition, some contain substances that might cause allergic reactions in some people, or which might react with ingredients in other products and medications. For this reason, it is a good idea for someone who wants to use one to consult with a dermatologist before beginning a regimen, and use is essentially at a person's own risk.
AS FEATURED ON:
AS FEATURED ON:







By: Robert Kneschke

Retinol face cream may help reduce the appearance of wrinkles.

By: Mi.Ti.

A pot of collagen cream.

By: Vera Kuttelvaserova

Lines are wrinkles.

By: Alila

A diagram of younger and older skin showing the decrease in collagen in older skin. Many collagen-based products are designed to replace or boost the production of this protein.

By: spotmatikphoto

Many people, especially women over 40, use collagen creams to maintain their youthful appearance.