Color shampoo is a hair care product meant to enhance or preserve color-treated hair. Some of these products are specially formulated to limit color stripping, while others actually deposit a small amount of dye in the hair. Another popular type of color shampoo is the variety that uses toning colors to prevent dyed hair from turning shades of yellow or orange. Specialized shampoo for highlighted hair is also available, and all of these products are typically very gentle, moisturizing, and include vitamins and minerals to help protect hair from damage.
When hair is dyed, the natural hair color is lifted slightly or totally and a new color is deposited in its place. Most types of color shampoo are formulated to be gentle enough not to remove the color deposits, keeping hair color fresher for longer. Shampoos meant for other hair types are typically too harsh for color-treated hair and can cause hair dye to fade prematurely.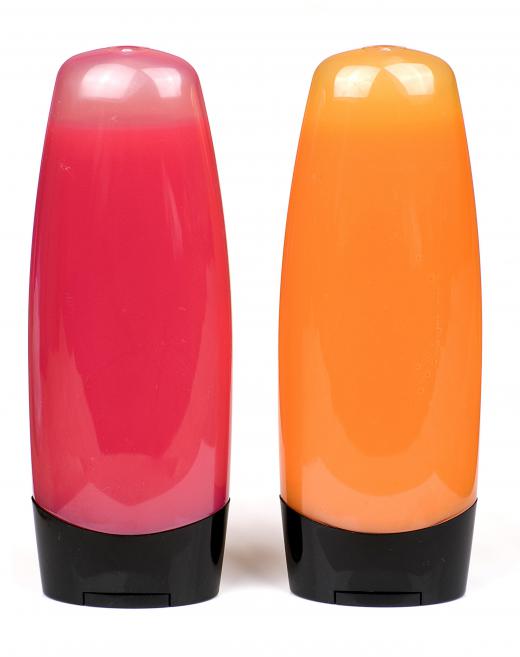 For shades that are especially hard to keep vibrant, there are different types of color shampoo that deposit a small amount of color every time the product is used. Deep shades of red or brunette are often prone to changing color, and this type of product can add a small amount of color in place of the original color that is washed out during the cleansing process. These color shampoos come in a range of shades and often include shine-enhancing ingredients as well.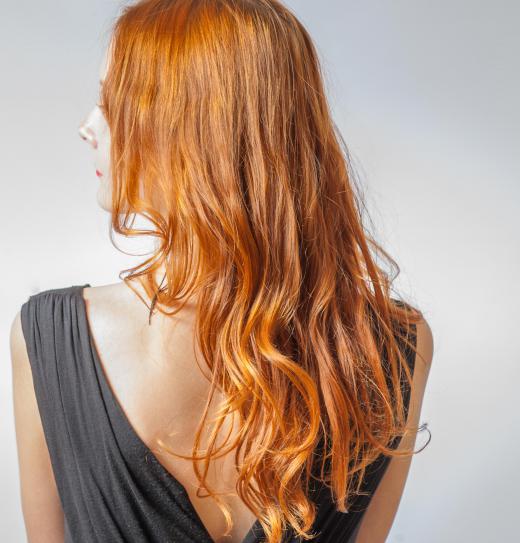 Certain hair colors and hair types tend to change after the hair has been dyed. Shades of blonde and gray are especially prone to this, with the former tending to turn orange over time and the latter turning yellow. Most types of color shampoo with toning properties have small deposits of violet or blue that help to counteract this change in color. Purple shampoo typically helps to keep blonde hair from turning orange, a common occurrence in those with naturally darker hair that has been lightened. Blue-based shampoos aid in keeping gray from yellowing.
There are also separate color shampoos for those with highlights. These tend to having toning properties to prevent highlights from turning brassy, although they are typically not as strong as those meant for all-over color. This helps to protect un-highlighted hair that is a warmer color from losing its depth and turning cooler. As hair is typically highlighted with bleach, this type of color shampoo is often very hydrating and includes proteins to help strengthen hair.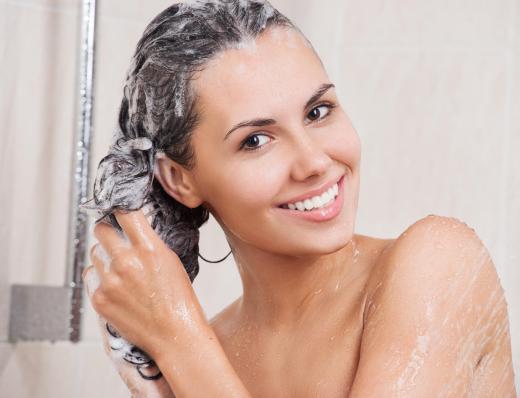 Nearly all types of color shampoo include heavy moisturizers to help replenish processed strands. Both drugstore and higher-end brands often include proteins such as keratin that help to rebuild hair that has been colored, as the dying process tends to strip hair of its natural proteins. Unlike other types of shampoo, which are meant to clean unprocessed hair, color shampoo is typically much gentler and contains weaker cleansing agents to prevent causing further damage to hair and to protect the color.
AS FEATURED ON:
AS FEATURED ON:







By: Dessie

Plastic bottles of shampoo.

By: mettus

Color shampoo is designed to preserve color-treated hair.

By: sparkmom

Deep shades of brunette are often prone to changing color when color washes out over time.

By: Iurii Sokolov

Some color shampoos deposit a small amount of dye in the hair.