What is Conditioning Mascara?
Conditioning mascara is a product which contains ingredients that protect and strengthen the eyelashes. It also typically contains dyes and pigments which make lashes appear longer and thicker. Packaged in a tube and applied with a wand or brush, conditioning mascara is alternatively available in a clear form without color or pigment. Vitamin E, panthenol, and almond oil are some of the ingredients which may be found in conditioning mascara. Jojoba oil, silk protein, and aloe vera can also be used for eyelash conditioning.
The dyes and pigments which may be found in conditioning mascara work by coating the eyelashes and adding volume without clumping. Vitamin E is an antioxidant which is believed to have properties which could contribute to hair growth. Many hand and body lotions contain Vitamin E because of its softening abilities. When used in conditioning mascara, Vitamin E nourishes and conditions the eyelashes.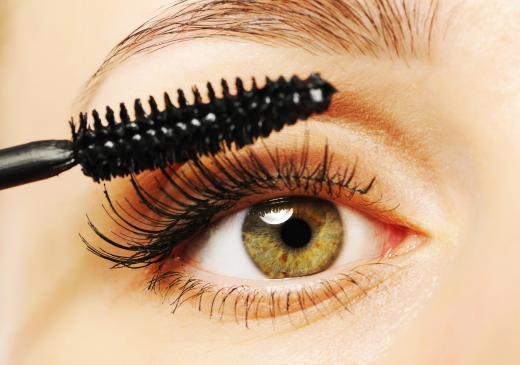 Panthenol is a common ingredient in mascara because it seals the surface of each eyelash to add shine and gloss. Pro-vitamin B5 is another term for panthenol. It is a common ingredient in cosmetics, shampoos, and conditioners because it is both a moisturizer and an emollient.
Another common ingredient is almond oil. It's used to encourage hair growth because it lubricates the eyelashes, discourages breakage, and promotes eyelash strengthening. Its high content of essential fatty acids can help moisturize as well. In addition, almond oil adds shine to the hair shaft without being overly greasy.
Conditioning mascara also commonly contains jojoba oil. The benefits of jojoba oil are that it is non-greasy and readily absorbed by the hair shaft. Although the jojoba plant was discovered in 1822, its oil was not used as a component of eye makeup until after the United States banned the hunting of whales. Jojoba oil took the place of whale oil in many cosmetics and was soon widely considered superior to the product it replaced.
Silk protein is sometimes used in strengthening mascara as well; it adds moisture and elasticity to the eyelashes, helping to make them strong and healthy. Silk amino acid is another term for silk protein. Hydrolyzed silk protein is silk protein which has been modified so that its molecules are smaller and more water soluble. Conditioning mascara frequently lists silk protein, silk amino acids, or hydrolyzed silk protein as an ingredient.
There are approximately 400 species of the Aloe plant, but only the extracts from the Aloe Vera plant are used in cosmetics. In conditioning mascara, Aloe Vera is used for its ability to condition, lengthen, and soften the eyelashes. For this reason, it is often a component of natural mascara.
AS FEATURED ON:
AS FEATURED ON:







By: haveseen

A woman applying conditioning mascara to her eyelashes.

By: Dionisvera

Almond oil is a popular ingredient in conditioning mascara.

By: sassyphotos

Extracts from an aloe vera plant are used in conditioning mascaras to condition, lengthen and soften eyelashes.

By: Africa Studio

Mascara is a makeup that is applied to the eye lashes in order to make them look longer, thicker, and fuller.