What Is Cream Foundation?
Cream foundation is a type of makeup base that uses a thick, cream formulation to provide good coverage and an even finish. This type of foundation usually provides a more uniform look than liquid and powder bases, and also provides excellent coverage for skin flaws and discoloration. People with dry or normal skin may prefer cream foundation, while those with oily skin may not do well with the heavier texture of most cream formulas. Proper application of cream foundation is important, as it can look cakey or uneven when applied incorrectly.
The texture and weight of the formula is what distinguishes cream foundation from other types of base makeup, such as liquid and powder. Liquid foundation is generally much runnier, and usually provides less coverage. Powder foundation comes as a loose or caked dry formula, and features buildable coverage that can be heavy in some areas and light in others. Cream base tends to come in a stick or in a compact, and is much heavier and thicker than liquid foundation. As such, a little can go a long way, and cream formulas may last longer than other varieties.
For people with significant skin issues, such as discoloration, age spots, or acne scarring, cream foundation can be a good way to achieve maximum coverage and concealment. The thicker formula is easy to spread over problem areas, and can help create a more even-looking skin tone. Since most cream bases contain heavy moisturizing agents, it is often suitable for dry skin, and may sit better on fine lines than powder or liquids.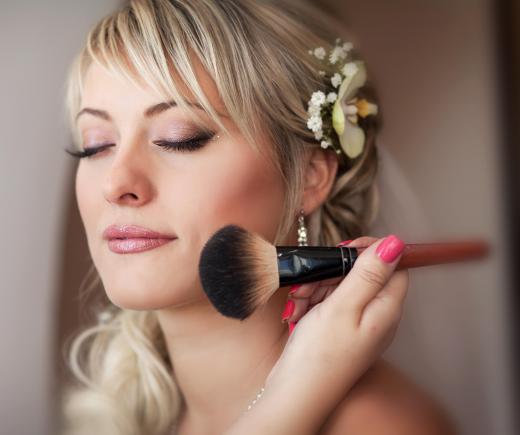 Cream foundation is usually not recommended for those with oily skin. Since the product is thick, it may clog pores easily, and can lead to breakouts in some people. The cream may not fully set on oily skin, leading to the potential for streaks and obvious makeup lines as the day goes on. Some makeup experts recommend people with oily skin use a light, absorbent facial powder to help cream makeup last longer without any problems.
Applying cream foundation is usually done with a large foundation brush or slightly damp sponge. Since the foundation dries quickly, it may help to place several dots of the makeup on one area of the face, such as one cheek, then blend in with a brush. Care needs to be taken to blend the makeup around the jawline, hairline, and nose, so that the edge of the makeup application is not obvious. For longer-lasting results, an application of loose powder can help set the makeup faster and add a luminous sheen.
AS FEATURED ON:
AS FEATURED ON:







By: Budimir Jevtic

Cream foundation can help conceal skin issues such as acne scarring.

By: armina

Some cream foundations are best applied with a makeup brush.

By: mikelaptev

Proper application of cream foundation is important, as it can look uneven when applied incorrectly.

By: Axel Bueckert

Cream foundation makeup may be used to cover vitiligo spots.

By: Budimir Jevtic

Cream foundation may be helpful in covering skin discoloration and age spots.

By: Doruk Sikman

Failure to properly remove cream foundation may result in clogged pores and acne.