Felt eyeliner is a makeup product used to apply color around the rim of the eyelid. It is typically in the form of a pen, with a pointed felt tip used to apply the color. It is commonly manufactured in black, but there are some other colors available as well.
Because felt-tip eyeliner is similar to a felt-tip pen in looks and design, it is often called a pen liner. It works much the same way as a permanent marker, with a cartridge of ink encased in the body of the pen. If left uncapped, the ink will dry up. Sometimes it is possible to revive a felt-tip eyeliner that has dried for a short period of time by emersing it in water.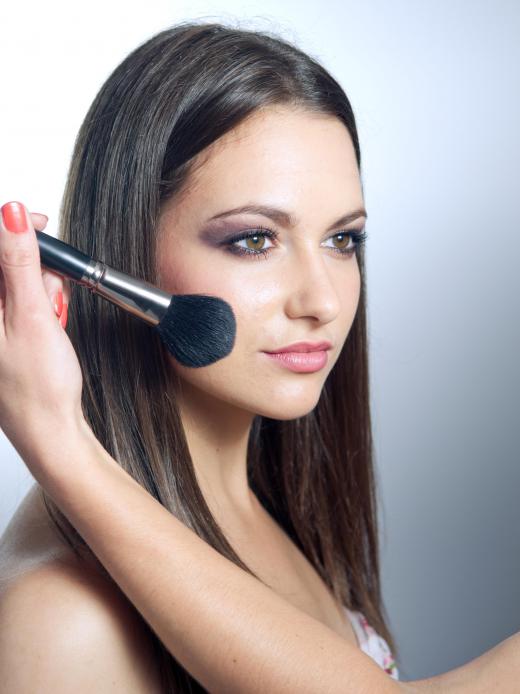 When compared with other types of eyeliner, a pen liner is usually easier to use than liquid eyeliner but slightly more difficult than pencil. A liquid eyeliner uses a brush to apply an ink-like product to the eye, and it takes a very steady hand to create a uniform look. Liquid comes in a variety of colors, however, and is more readily available than felt eyeliner.
The pencil style eyeliner is usually the easiest to handle. Its disadvantage is that it typically does not give a uniform line. Usually, the line has to be redrawn several times to achieve a bold, dark look. For women who want a more natural style eyeliner, the softer line of a pencil is actually an advantage. Pencil eyeliners come in the greatest variety of colors, from white to black and every color in between.
The best use for a felt eyeliner is to create a smoky eye or wing tipped eye. The smoky eye has a very dark rim, followed by increasingly lighter hues of the same color. Typically, a smoky eye is black, gray, navy, or purple. The wing tipped eye, sometimes called the cat eye, uses a neutral base on the lid followed by a bold application of eyeliner. The line extends past the outer corner of the eye and turns up.
Felt eyeliner is usually more expensive than pencil eyeliner, similar to liquid eyeliner. The determining factor is usually the brand name or designer. Designer brands are much more expensive than brands commonly found at a drugstore or other chain retailer. In some cases, the quality is related to the price. Often, inexpensive make-up manufacturers cut costs by reducing the amount of actual product in the encasement.
AS FEATURED ON:
AS FEATURED ON:







By: Viktor Pravdica

A woman wearing black eyeliner has blush applied.

By: Africa Studio

Eyeliner is a type of makeup that applied around the rim of a person's eyelid.