Hair lotion is a hair styling product that is generally applied to the hair and left on. Its purpose is typically to moisturize the hair, although hair lotion can also be used to treat dry scalp, eczema, dermatitis, and other skin conditions affecting the scalp. Medicated hair lotions may also play a part in many hair-retention and hair-regeneration programs marketed for those suffering from hair loss. While a wide range of hair lotions and oils are available for sale, it is also fairly easy to make these products at home. They often contain simple, readily-available ingredients such as eggs, sugar, and vegetable oil.
The use of hair lotion is said to help keep hair hydrated, supple, and soft. Many people use hair lotion in an attempt to repair damage sustained after exposure to heat, chemicals, or UVA/UVB rays. Manufacturers typically claim that these products can restore the natural balance of oils to the hair and encourage hair to grow more rapidly. Additional claims often include protection from skin irritations on the scalp and elimination or reduction of dandruff flakes.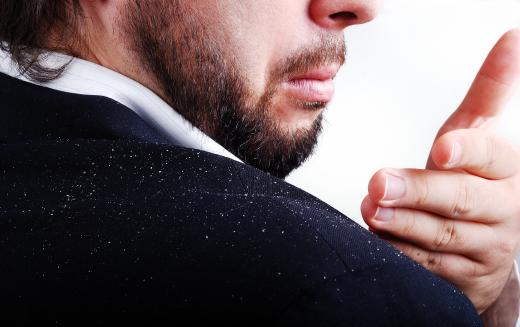 Most products marketed as hair lotion are oil-based. Castor oil, neem oil, and olive oil are considered beneficial for topical application to the hair. These products often also contain additional ingredients intended to support the health of both the hair and the scalp. The use of botanical extracts to enhance the effects of commercial hair lotions is considered quite popular. Extracts of chamomile, burdock, rosemary, henna, and other herbs are often added to commercial hair lotions to soothe the skin, enhance the color and appearance of hair, support adequate blood circulation in the scalp, and promote increased hair growth.
Many people make their own hair oils and lotions in the home. Since these products often contain few ingredients, they are generally very simple to create at home. Most homemade hair lotion recipes call for a base of olive or vegetable oil. Additional ingredients are often chosen based on the effect desired from the finished product.
Eggs are considered a popular ingredient in homemade hair lotions, because they are known for enhancing hair's softness and shine. Some people may forgo eggs, and instead apply a mixture of olive oil and honey to the hair. Lotions containing eggs or honey are typically left on the hair for a period of time, usually about an hour. The lotion is then normally washed out.
Other lotions, however, can be left in the hair until the next shampoo. Some people apply sugar water as hair lotion, due to the perceived moisturizing benefits of the sugar. Others apply homemade infusions of nettles, rosemary, or other herbs.
Can You Put Lotion in Your Hair?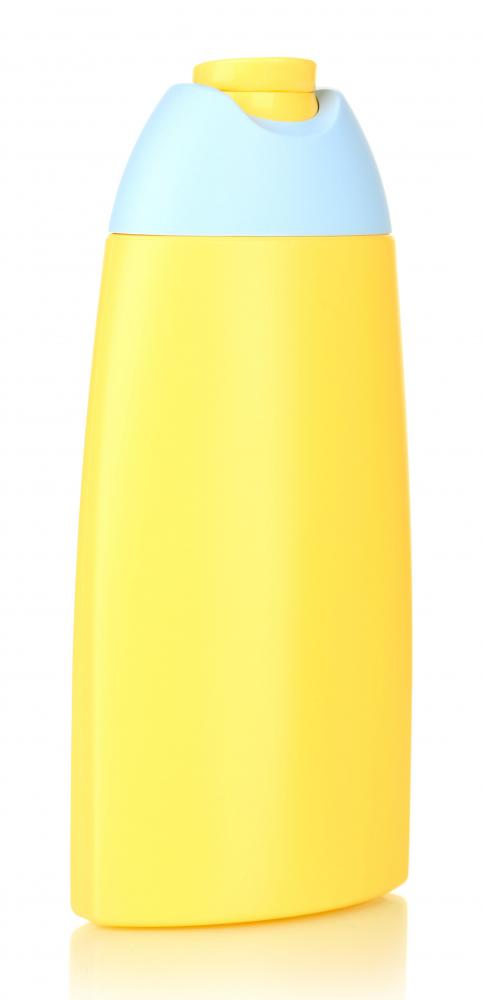 Many products designed for use on your hair, such as conditioner and styling creams, contain some of the same ingredients as standard body lotion. These products may differ slightly in their formulas, but both generally contain ingredients that are designed to soften, smooth, and strengthen both skin and hair cells. In fact, many people swear by their use of body lotion as an all-over treatment to both moisturize their skin and their hair with just a single product.
Body lotion can make for a handy substitute for hair styling when hair lotion isn't an option, but not all body lotions are suitable for use on your hair. It's a good idea to take into consideration the ingredients in any product that you put on your hair, as well as your hair type, needs, and texture. Just as with hair lotions, not all body lotion formulas will support your unique hair type and care requirements. While you can put many lotions in your hair, it's best to stick to storebought products and homemade options that are guaranteed to be safe and effective for your mane.
Is Lotion Good for Your Hair?
As long as your hair and scalp don't have any major sensitivities or conditions, hair lotion is nearly always guaranteed to be safe for your hair. Body lotion, on the other hand, may exacerbate some common hair conditions, such as dandruff, greasy scalp, hair loss, itchiness, or breakage.
Some of the ingredients in body lotion may affect your hair by weakening color deposits, over-moisturizing to the point of oil or grease buildup, breaking down the integrity of your hair, or irritating your scalp. Body lotions that contain certain mineral oils, for example, do not penetrate your hair strands to moisturize them. Instead, they can act as a product barrier that other moisturizing solutions cannot pass through, leaving your hair dry and dehydrated. This is especially detrimental for those with curly, coarse, or dry hair types.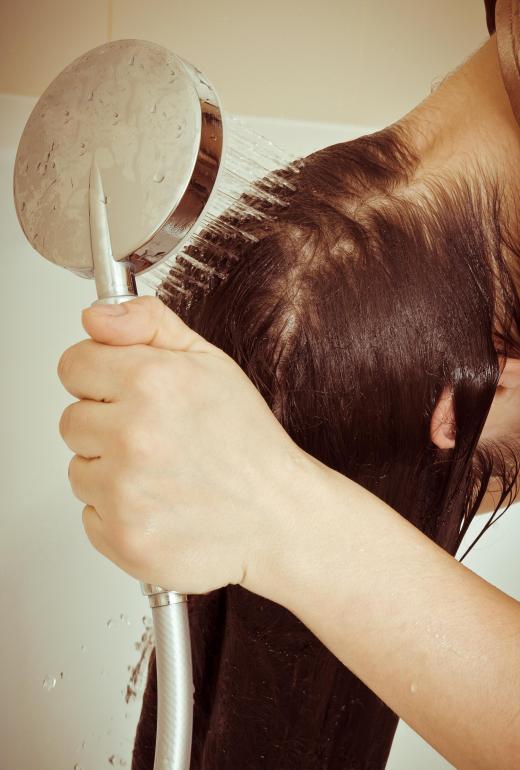 Hair lotion, especially formulas that aim to protect and moisturize your strands, can go a long way in supporting the health of your hair. A closer look at the ingredient list of any lotions, whether designed for your hair or body, should reveal whether the product is good for your hair. There are body lotions and hair lotions that are appropriate for use on both your skin and hair, as these products are made without harmful or damaging ingredients. Always look at the label before applying anything to your hair.
Even lotions that could cause harm over time may be okay to use once in a while when hair lotion is not available, but it's far better to be safe than sorry and apply only solutions you are certain will benefit your hair.
What Causes Dry or Damaged Hair?
Your scalp produces oils that naturally moisturize and protect your hair, but several lifestyle, environmental, genetic, and behavioral factors that can increase or decrease your hair's needs. Often, your body's natural moisturizing systems can produce too much or too little to keep up with the effects of overwashing, temperature changes, and normal styling routines.
Some people are a lot more susceptible to dryness and breakage, including curly or coarse hair types. People with dry hair tend to experience more frizziness, dullness, or damage because the hair strands lack adequate protection within the shingle-like cuticles that shield your hair from the elements. When these cuticles are compromised, your hair may struggle to hold on to moisture.
Your hair may also be much drier if you:
reside in a hot, dry climate or if you spend a great deal of time in the sun, 
use heat, chemicals, and harsh products to style or color your hair,
regularly swim in chlorinated or salty water, 
or have health conditions that cause a dry scalp.
Dry hair may also be a symptom of a more serious health condition, especially if it is accompanied by other symptoms. Make an appointment with your doctor if you also experience fatigue, frequent chills, or hair loss.
How Can Lotion Protect Your Hair?
Not only can hair lotion add much-needed moisture to your strands, but these products can also contain deep conditioners and much-needed vitamins and minerals to strengthen and fortify your hair. As well, hair lotions can remedy the effects of overstyling and overwashing, adding moisture and heat-protectants that act as a chemical shield to prevent unnecessary heat damage. From mild moisturizers to strong heat-protecting products, hair lotion can preserve your hair color, treat dandruff, and prevent your hair from developing long-term damage to keep it shiny and healthy.
AS FEATURED ON:
AS FEATURED ON:







By: Jasmin Merdan

Hair lotion may be used to treat dandruff.

By: Unclesam

Oil derived from a neem tree is often included in hair products.

By: Africa Studio

The use of hair lotion is said to help keep hair hydrated, supple, and soft.

By: diego cervo

Medicated hair lotions may help with hair retention.

By: Miramiska

Hair lotion helps moisturize and repair hair.

By: Roman Gorielov

Hair lotions containing eggs are generally rinsed out of the hair after an hour or more.

By: Antonioguillem

Some sunbathers use hair lotion to protect their hair from the sun's damaging UVA and UVB rays.