Hair volumizer is a product that is designed to give extra body and lift to the hair, particularly at the roots where it can often become weighed down and flat. Typically, people with thin hair, or very straight, limp hair will use volumizing products to make it look healthier. Volumizing shampoos and conditioners also exist, which can help even more, but stand-alone hair volumizer is usually designed more like a mousse or light cream. It is applied to damp hair, and then blow-dried to ensure that the extra volume lasts all day.
People with fine hair need to take extra care with the other hair products they use as well, because hair volumizer alone will probably not be enough. It is important to use volumizing shampoo and conditioners that moisturize the hair, but do not weigh it down. Some moisturizing shampoos can be very heavy, and are great for people with thick hair, but will cause thin hair to look flat and lifeless. Finding a good shampoo and conditioner is often the first step to finding a good hair volumizer, because most manufacturers will make a variety of styling products designed to correspond with their other products; these are easy to find in drugstores and by shopping online; a trusted hair stylist may also be able to provide helpful advice.
There are a number of different types of hair volumizer. Mousse versions are some of the most common, as these can be applied directly to the roots, and provide lift without making it look greasy. Sprays, gels, or creams can also be used to add more volume throughout all the hair, not just at the roots. Even dry shampoos can be a great volumizing product to use in between washes, to dry up an oily scalp and provide some extra lift. It may be necessary to try a few different products before finding the one that works best; it should give the hair volume and lift that last all day without drying it out, or making it greasy.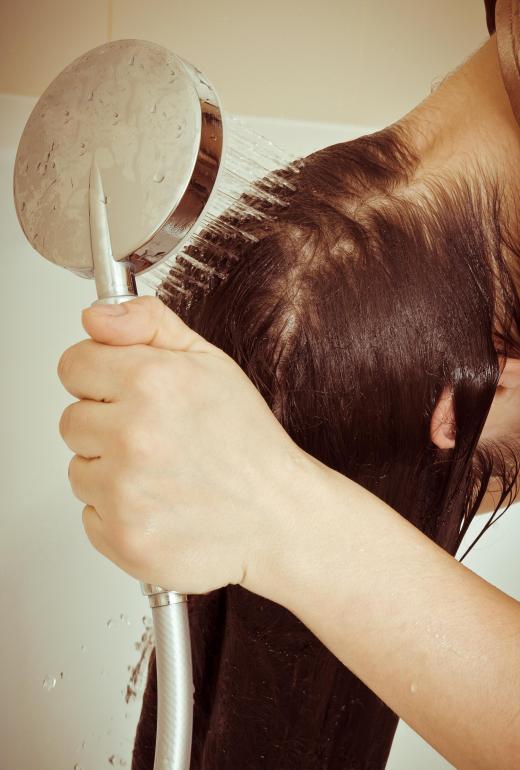 Most types of hair volumizer are applied when the hair is still damp, before the hair is completely blow-dried, but be sure to follow the instructions on the bottle. They will generally contain ingredients that coat each individual strand of hair, making them appear thicker. A finishing spray may then be applied to add shine if necessary; people who have frizzy hair often find that this is helpful when using volumizing products.
AS FEATURED ON:
AS FEATURED ON:







By: EuToch

Volumizing shampoos and conditioners don't weigh down hair.

By: Roman Gorielov

Some hair volumizers are included in shampoos and conditioners.

By: Lvnel

Hair volumizers are products that give extra body and lift to the hair.

By: Piotr Marcinski

Volumizing shampoos work to infused moisture back into the hair.