An instant bronzer is any one of a range of cosmetic products designed to artificially give the skin a suntanned look. Most of the time, bronzers come in the form of lotions or creams, but can also be sprays, gels, and mists. Using these products gives the illusion of having sunbathed or gone tanning. Results are usually temporary, and will either rinse off or fade as time passes. They do not usually protect against the sun, but neither do they harm the skin the way the sun's rays can.
In many parts of the world, people consider tanned skin desirable. Instant bronzers, which can also be marketed as sunless tanners or self-tanners, provide a way to get a sun-tanned look without sun exposure. Most medical professionals recommend keeping the skin well shielded from the sun to minimize damage. The sun's ultraviolet rays can harm skin's cellular composition, which can lead to cancer and other ills.
Many consumers consider instant bronzer a health-conscious way to get a tan. Not all bronzing products are the same, however. The safest tints are usually very temporary and come in the form of powders or creams that leave a shiny, tanned residue on the skin, but will wash off immediately. More permanent tanning products usually contain chemicals that react with the skin on contact. Some of the most heavily debated bronzers in the medical community come in the form of all-over sprays, which can be damaging if inhaled or accidentally applied to the eyes, inner nostrils, or other orifices.
Different people have different reactions to instant bronzer products. Most of the time they work well, and users come away with a natural-looking glow. A lot depends on individual skin composition, as well as the overall quality and ingredients of the product.
People with sensitive skin or allergies to certain chemical compounds often have a hard time with instant bronzer applications. Some of the more common bronzing cream complaints include patchy, uneven, or bright orange discoloration. Achieving good results usually requires a careful adherence to all of an instant bronzer's directions and use specifications, as well as pre-testing to determine skin sensitivities or negative reactions in advance of all-over application.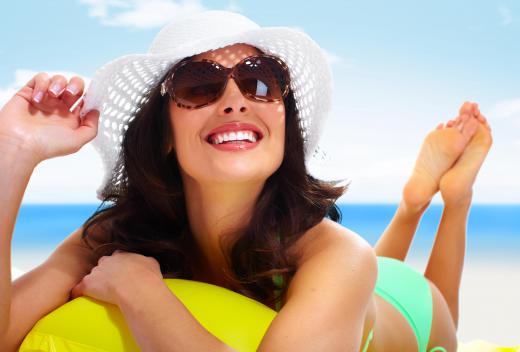 Skin that has been tanned naturally usually builds up some sun defenses, which often means that it does not burn as easily. These benefits are not usually a part of the instant bronzer package. Most of the time, the sole purpose of a bronzing spray is to temporarily change the skin's tint. When the skin has only been dyed, it has not actually had a chance to build up a tolerance to the sun. It is therefore crucial for people with this sort of bottled tan to remain diligent about sun protection, and continue wearing sunscreen when outdoors.
AS FEATURED ON:
AS FEATURED ON:







By: micromonkey

Instant bronzers are available to suit a variety of skin tones.

By: Ammentorp

Bronzers commonly come in the form of a spray that can temporarily change the tint of a person's skin.

By: Kurhan

The effect of a bronzer may depend on individual skin composition, as well as the overall quality and ingredients of the product.

By: Liv Friis-larsen

Instant bronzers can mimic the effects of sun bathing, but with fewer consequences.