Kohl eyeliner is believed to be one of the oldest forms of makeup, traditionally made from galena or antimony, both heavy metals typically containing high concentrations of lead sulfide. Though modern science now believes that traditional kohl can cause lead poisoning, the ancient Egyptians are believed to have used it regularly, not just for cosmetics purposes, but to protect their eyes from the sun and from disease. Modern kohl eyeliner in the developed world is no longer made with toxic ingredients. Instead, the term kohl is widely used in the modern cosmetics industry to describe eyeliner that is deeply black in color. In parts of Northern Africa, traditional kohl eyeliner, made from galena, antimony or other minerals is still sometimes used, as is kohl made from plant extracts, resins, or soot.
The ancient Egyptians are believed to have been the first to use kohl eyeliner, and may have even used some form of chemistry to produce synthetic eye cosmetics. Most traditional kohl was black and made from lead compounds. It was typically kept in powder form in small bottles or jars, and was applied to the eyes using a small rounded or flattened implement. Traditional kohl is typically applied by first oiling the application wand, then dipping the wand into the kohl powder, then wiping the wand across the eye between nearly-closed eyelids. This manner of application tends to allow the powder to settle into the roots of the eyelashes themselves, for a less dramatic look than is available with modern kohl pencils or liquid eyeliners.
Much of the kohl eyeliner used throughout history was black. Ancient peoples often wore kohl eyeliner to protect their eyes from the desert sun, or in the belief that it protected against eye infections. The powder was also believed to help moisturize and protect the skin around the eyes. North Africans of all ages and genders have traditionally worn kohl for these reasons.
It is believed that the ancient Egyptians also manufactured a number of colored cosmetic kohl eyeliners. Minerals and semi-precious stones, such as malachite or lapus lazuli, were often ground up to kohl powder for the eyes.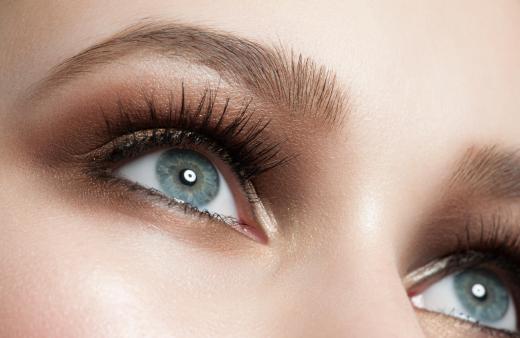 Today, traditionally manufactured kohl eyeliner made with lead compounds is still available in many North African nations. Some medical experts believe the use of these traditional cosmetics contributes to high rates of lead poisoning among North African peoples. Kohl eyeliners manufactured in the developed world typically do not contain lead compounds, due to government regulations against them. These eyeliners are usually black, and are generally available in liquid or pencil forms for application around the outside of the eyes.
AS FEATURED ON:
AS FEATURED ON:







By: microworks

Ancient peoples often wore kohl eyeliner in the belief that it protected against eye infections.

By: Mikhail Malyugin

Kohl eyeliner has long been used to augment and draw attention to the eyes.