What Is Laser Eyebrow Removal?
Laser eyebrow removal is a procedure that uses a concentrated beam of light to reduce the number and appearance of stray eyebrow hairs. It is often an alternative to other eyebrow-shaping methods, such as plucking and waxing. Many people prefer laser hair removal because it is more permanent than other options for eyebrow maintenance. An eyebrow removal laser can be particularly effective at taking away noticeable hairs in between as well as above the brows. Good candidates for laser eyebrow removal usually have naturally dark and coarse hair, along with light skin.
While eyebrow waxing or tweezing is often done in a salon or sometimes at home, laser eyebrow removal is typically done in a medical setting and overseen by a licensed dermatologist or other type of physician. Laser hair removal technicians are usually required to complete thorough training before they are able to practice this procedure on clients. An eyebrow removal technician may also need to attend periodic continuing education courses to stay updated on the latest laser hair removal techniques and equipment. Different types of lasers may be needed for various hair textures, and a well-qualified technician generally has a good working knowledge of which one is appropriate to use on each specific client.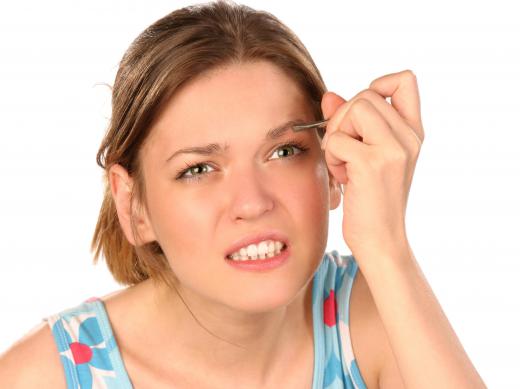 First-time clients who are thinking of trying laser eyebrow removal are usually advised to check the credentials and reputation of the facility they are considering. Some medical spas offering cheap laser eyebrow removal may be tempting for their lower costs, but a certain number of them may employ technicians who have not received sufficient training in laser use. Receiving this treatment from qualified technicians is a worthwhile measure against possible problems that can result from laser hair removal performed incorrectly. Laser treatments on eyebrows generally involve between four and eight monthly sessions before the results become longer-lasting.
Laser hair removal for eyebrows is considered safe for application in between the brows, as well as above the brow line. Stray hairs underneath the brows are usually not removed with laser treatments as a safety precaution. Many local health authorities have regulations that prohibit laser hair removal underneath the brows, and facilities that violate these laws are to be avoided. These stray hairs can often be removed quickly with wax strips or tweezers during the same treatment session.
AS FEATURED ON:
AS FEATURED ON:







By: Ana Blazic Pavlovic

Laser eyebrow removal is a more permanent option than tweezing.

By: Africa Studio

Laser eyebrow removal is a more permanent option for eyebrow maintenance.